One million Tourists arrive in 2018 via Air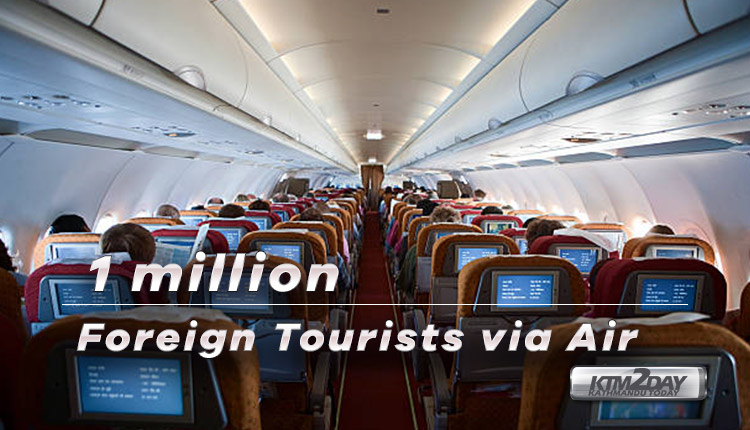 The inflow of foreign tourists (by air) has crossed the much awaited mark of one million annual arrivals within the first 11 months of 2018, as per the statistics unveiled by Nepal Tourism Board (NTB) today.
According to NTB, a total of 1,001,930 foreign tourists have visited Nepal via air till the end of November. This inflow of foreign tourists is an increment by 17 per cent compared to the number of foreigners visiting Nepal in the 11 months of 2017.
Furthermore, the figures do not include number of overland international visitors to Nepal in October and November. "Even if overland arrival figures of last year are assumed to be constant, overall growth in January-November period has been 23 per cent," said NTB officials.
As per the NTB statistics, arrival of Indian tourists in January-November period was recorded at 260,124 while 134,362 Chinese tourists visited Nepal during the review period. Similarly, the arrival of European tourists has also surged in the first 11 months of 2018. The total European arrivals in January-November period in 2018 reached 224,206, as per NTB.
Likewise, total number of visitors from the United States in January-November period this year stood at 82,870.
Deepak Raj Joshi, chief executive officer of NTB, mentioned that the image of Nepal as one of the most preferred tourist destinations has been reinforced and this has been reflected in the extraordinary growth in visitor arrivals to Nepal.
"This can also be attributed to the concerted efforts of the government, NTB, private sector and media towards promotion of overall tourism sector in the international tourism arena," said Joshi, adding that this is the moment to commemorate the milestone in the tourism history of Nepal as it also heralds the potential of tourism sector of Nepal which can be further realised through upcoming national tourism campaign of Visit Nepal Tourism Year 2020.