Sharp is Making the First 8K Mirrorless Camera Priced Under $5,000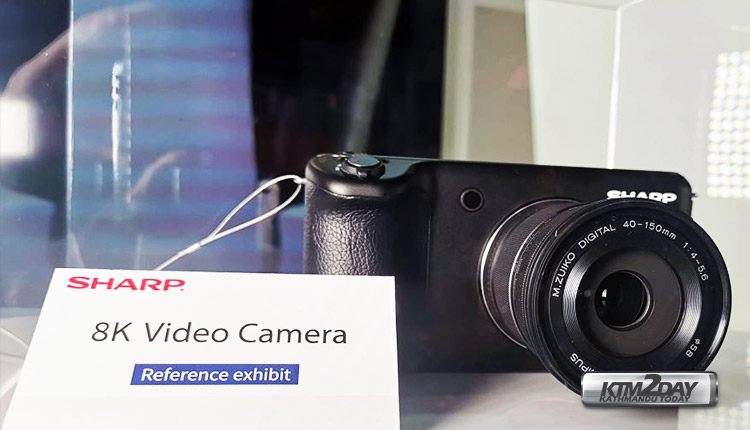 Sharp showed a camera capable of shooting video at 8K resolution (7680 x 4320 pixels) at the CES 2019 Show. The specimen exhibited at CES 2019 is a prototype. The official presentation should take place during the National Association of Broadcasters (NAB) conference in April. Therefore, there is no detailed information sheet with specifications or product name. The camera uses a sensor in Micro Four Thirds format and records video in 8K up to 30 frames per second using the H.265 codec . Sharp, however, would be working on the possibility of upgrading it to 60 fps.
Sharp, a company better known for TVs, displays, and electronics, could be one of the first to bring this 8K cameras in the consumer market for a price under $5,000.
There's also in-camera stabilization, either from in-body stabilization or an electronic system. It was mounted with an Olympus M.Zuiko 40-150mm lens, and will feature a Micro Four Thirds mount.
The 10-bit camera also uses the H.265 codec and has an SD card slot, and HDMI and USB Type-C connections, along with headphone, microphone, and mini XLR ports. It will have autofocus, but we still don't know much else, like ISO range.
The unnamed camera isn't the first to hit 8K resolution, but Sharp is suggesting a lower price point than the high-end 8K options offered by cinema-grade companies like Red and Blackmagic. Red's DSMC2 Helium 8K S35 lists for $24,500 .
Perhaps by launching a (more) affordable 8K camera, the company is hoping to boost the rest of its 8K space as well. It's also clear that Sharp is positioning the camera for regions that will be 8K ready, like Japan where NHK is expected to broadcast the Tokyo Olympics in 2019 in 8K.