Nepal gets 91,793 tourist arrivals in January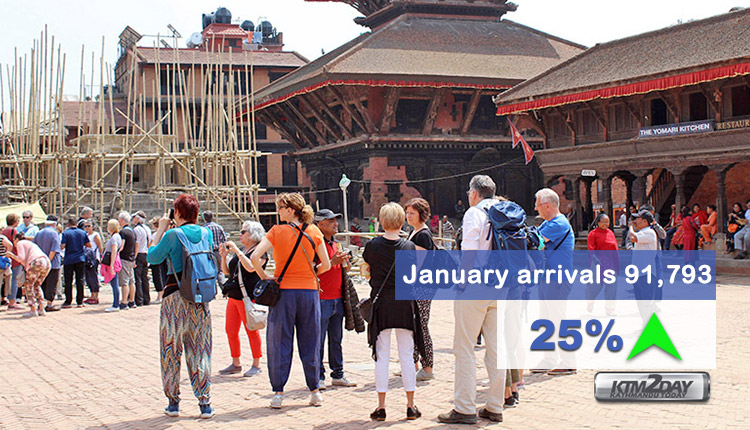 The year 2019 has begun with a very encouraging growth trend in tourist arrivals to Nepal.
According to Nepal Tourism Board, 77,300 international visitors came by air and 14,493 came overland to Nepal in January. In aggregate, a total of 91,793 visitors came to the country, a cumulative increase of 25.4 per cent over the same month last year.
Tourist arrivals from India in January increased by 20.6 per cent in comparison to the same month in 2018 and reached 14,650. The overall arrivals from SAARC nations registered a strong growth of 11.6 per cent over the same month last year with 17,432 total tourists.
Likewise, 13,688 Chinese tourists visited Nepal in the first month of 2019, which is 14 per cent more than the figures in January 2018.
Number of visitors from Thailand, Japan and South Korea also increased significantly by 69.8 per cent, 38 per cent and 8.4 per cent, respectively in comparison to the figures of the corresponding month last year.
The number of Europeans visiting Nepal also surged with healthy growths from key European source markets.
Arrivals from the United Kingdom, Germany and France were 4,130, 1,549 and 1,375, respectively with 27.2 per cent, 19.7 per cent and 19.8 per cent growth. The total European arrivals in January this year reached 11,966 with regional aggregated growth of 20 per cent.
Total number of visitors from the US in January reached 7,028, an increase of 28.1 per cent over the figures of January last year. The number of Australian visitors to Nepal also grew by 31.3 per cent to 3,527.
Deepak Raj Joshi, chief executive officer of NTB, mentioned that growth in international visitor arrivals in the very outset of 2019 was possible because Nepal has continuously spread a positive message internationally.
"This growth has encouraged us to work even harder to harness the strengths of both public and private sector in the days to come," he added.
Top Five Country

Arrivals

India
14,650
China
13,688
Thailand
8,442
USA
7,028
South Korea
6,584
Source : Nepal Tourism Board