Samsung's Galaxy S10+ Camera Takes First Place in DxOMark's Selfie Ranking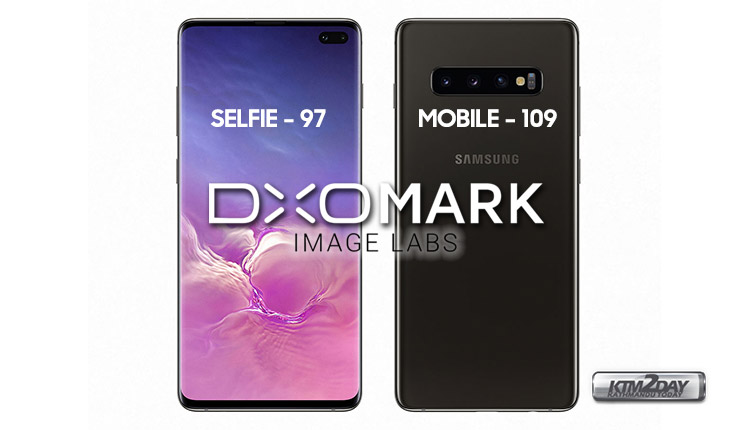 Samsung Electronics Co., Ltd. today announced that Galaxy S10+ has taken the number one rank on the DxOMark Selfie scale, a new ranking system to evaluate the image quality of smartphone front cameras. The new smartphone also earned a first place spot for its rear camera in the DxOMark Mobile scale.
DxOMark—the trusted industry standard for camera, lens and smartphone image quality measurements and ratings— conducts its DxOMark Selfie and DxOMark Mobile tests following a rigorous scientific protocol using industry-grade lab tools. The score sums up their engineers' assessment of a devices' photo and video quality to provide consumers with neutral and reliable test data about smartphone camera performance. DxOMark assigns sub-scores for Photo and Video quality and then combines them into an Overall score. The higher the score, the better the image quality.
Galaxy S10+ scored a standalone first place position on the DxOMark Selfie ranking for its front camera with a score of 96. The DxOMark Selfie test verifies that Galaxy S10+'s dual front camera helped push the new smartphone to the top of the list with its Dual Pixel Selfie camera and second RGB Depth camera. Galaxy S10+'s dual front camera supports artistic bokeh effects, and can shoot videos and pictures in up to UHD quality so you can elevate your social game.

Galaxy S10+ also received a joint number one position on the DxOMark Mobile ranking, with an Overall score of 109 (114 Photo score and 97 Video score), the highest score ever for a rear camera. To evaluate smartphone camera performance, DxOMark looked at Galaxy S10+'s triple rear camera for Exposure and Contrast, Color, Autofocus, Texture, Noise, Artifacts, Flash, Stabilization (for Video), Zoom and Bokeh.
Designed for consumers looking for a supercharged premium device, Galaxy S10+ is a testament to a decade of Galaxy innovations with its breakthrough display, new camera technology and intelligent performance. Building on Samsung's camera leadership – Super Speed Dual Pixel and Dual Aperture – Galaxy S10+ introduces new camera technology and advanced intelligence that make it easy to take epic shots and videos. Among all of the innovations, GalaxyS10+'s pro-grade camera features:
The world's best front and back UHD recording and playback with true-to-life video quality and, in an industry first, the ability to record pro-grade videos in HDR10+ quality with the rear camera.
Ultra Wide lens that revolutionizes how you can capture the world just as you see it. The brand new 123-degree field of view lens is perfect for fitting the whole family in one shot – so you won't leave anyone, or anything, out of your photo again.
Telephoto lens offering two times optical zoom and ten times digital zoom to easily capture every shot and angle possible.
Revolutionary Dual Aperture lens acting like a human eye – self-adapting between f/1.5 and f/2.4 apertures – to automatically adjust to the light for a professional-looking image during the day or at night. Galaxy S10+ also offers Bright Night Shot so you can take professional quality pictures even under extreme low light.
Super Steady recording with digital stabilization technology so your camera focuses when you want to capture moving objects or people. Galaxy S10+'s camera helps you record fluid and steady videos even during your most active shots – from skiing to cycling and anything in-between.
Super Slow-mo that makes everyday moments epic, with cinematic speeds four times slower than traditional slow-motion videos.
AI smart features powered by a Neural Processing Unit (NPU) to get pro-grade shots without having to manually select any advanced camera settings. Scene Optimizer can now recognize and more accurately process additional scenes because of the NPU. Whether during the day, at night, indoors or outdoors, Scene Optimizer will adjust your photo's contrast and color, so you don't have to. Galaxy S10+'s Shot Suggestion also offers automatic composition recommendations so you can frame your photo better than ever.