Kathmandu Valley cables to go underground
Nepal Electricity Authority (NEA) has decided to have the underground electric cable in the Kathmandu Valley in a bid to minimise the risk of electric shocks and maintain the urban beauty.
In the first phase of the cable undergrounding project, areas covered by the Majarajgunj Distribution Centre and the Ratnapark Distribution Centre have been chosen, the NEA said.
Indian company KP Industries Ltd has been selected to undertake the project, which accepted it at the lowest price among companies seeking the tender.
The NEA published the notice about tender results on February 6 and the selected company has been asked to contact the NEA with required documents within the next 28 days of the notice issue.
Overhead cables of electricity, telecommunications and others have spoiled the urban beauty, increasing the risk of incidents and the new project aims to address these problems, according to NEA central and north (Maharajgunj) project chief Abhishek Adhikari. The total cost of the project is over Rs 6.60 billion.
Automation means using multiple electricity supply feeders for uninterrupted power supply, according to NEA officials.
Underground electricity distribution system also prevents any possible hazards in the event of accidents and falling of electricity poles.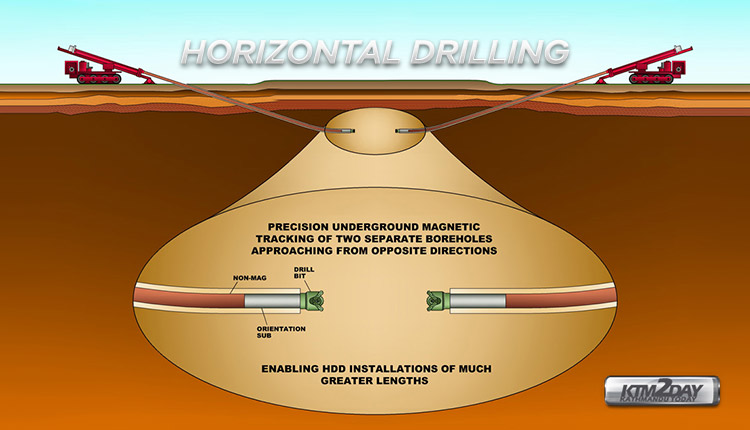 Valley denizens won't have worry about another round of road digging, as the NEA is deploying a new technology called horizontal directional drilling. It is a trenchless method of installing underground pipes of cables.
Abhishek Adhikari, the head of NEA's Kathmandu Valley Middle and Northern Distribution System Enhancement Project, said that the project will also use gun tracker radar while laying pipelines to assess underground structure before planning horizontal drilling.
NEA will also lay down optical fiber and television cables along with power lines. "Our optical fiber network will be different from similar network laid by Nepal Telecom," Adhikari added.
Officials of the power utility say that the contractor would take few more weeks to begin its works.
The works need to be completed within the 30 months of project initiation. During the first phase, the project will be implemented at Bagbazar, Asan, and Durbar Marg area.
Once the first phase projects gets completed, around 9,000 clients of both centres will get smart meters which will replace the role of meter readers. Customers themselves will determine the quantity of power they need for use.