HTC unveils 5G Hub, an Android entertainment device with 5G Hotspot and Powerbank
HTC has unveiled a 5G mobile hub that features a 5G hotspot, an Android hub and comes with a built-in rechargeable battery.
The MWC 2019 is not just a podium to launch flagship smartphones : HTC has launched a new smart smart 5G Hub which doubles as an entertainment android device that comes packed with 7,660-mAh battery powerbank and can connect to almost 20 devices simultaneously with its inbuilt hotspot feature.
HTC's 5G hub is primarily a 5G hotspot that allows up to 20 users to connect to the 5G integrated network.
With the built-in 5 "(720 x 1,280 pixel) display running Android 9, users can stream TV programs and movies from apps like Netflix, or simply use the device's USB-C port to connect it to the HDMI Connecting a TV.
There's also a Micro-SD slot and Wi-Fi, so you do not always have to use 5G or LTE connectivity for streaming. The controls can be either a remote control or voice commands such as Amazon Echo or Google Home can be used. The hub has a battery installed, so it can be used on the go.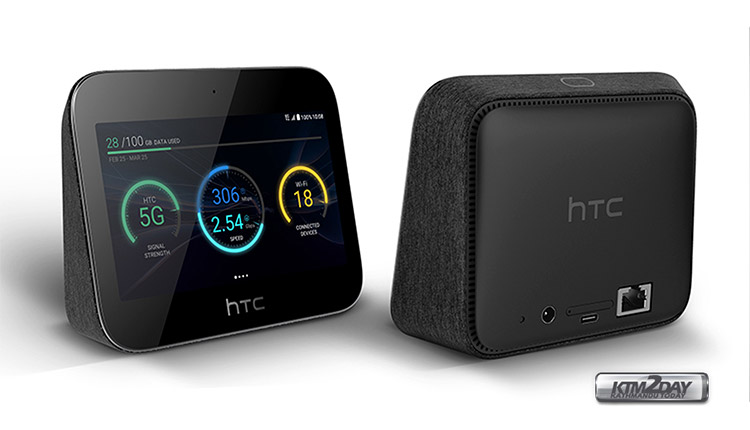 HTC 5G Hub comes with Qualcomm's Snapdragon 855 processor , four gigabytes of RAM and a 32-gigabyte internal memory. Through the Snapdragon even games are run smoothly on the gadget.
HTC has stated that the 5G Hub is intended for office use to help companies quickly build their own office network. The hub comes with integrated Ethernet. All connected devices are in an encrypted network, and it is also possible to configure a company-wide VPN.
The planned launch of the HTC 5G Hub will be in the second quarter of 2019 and will initially be limited to limited interested companies in the US.
Huawei also has a similar idea and presented a 5G router at the MWC 2019 in Barcelona. The Huawei 5G CPE Pro was also developed for home users and businesses and has built-in Ethernet like HTC's 5G hub.