Nepal Investment Summit 2019 concludes with agreement on 15 projects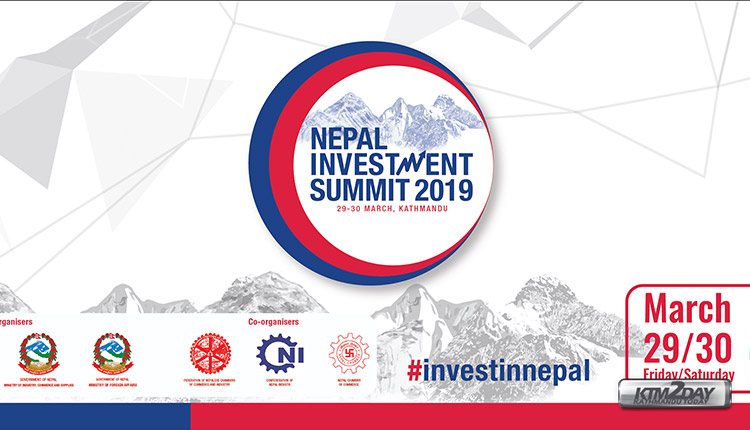 Investors at home and abroad attending the 3rd Nepal Investment Summit have sought full implementation of Nepal government's commitment to put procedural reforms and policies for investment security while expressing their excitements over favourable environment created for investment in Nepal.
They expressed happiness at the government's efforts to attract investment by making necessary laws and said they would be keeping a close watch on what steps the government would take in providing investment security and removing administrative bottlenecks to that effect.
In a bid to attract as much as investment, the government has brought some bills like the Public-Private Partnership and Investment Bill-2075, the Foreign Investment and Technology Transfer Bill-2075 and amended the special economic zone bill. Besides, preparations are underway to make some related laws, the government said.
It is worth noting that the country had organised the summit for the first time in 2048 BS following the restoration of democracy. The investors attending the summit had pledged investment of approximately $100 million, but only around 25 per cent was realised, government data show.
Likewise, the second summit was convened in 2017 following the proclamation of the new constitution through the Constituent Assembly. In the summit, around Rs 14 trillion in investment was committed, but again only 25 per cent of the sum came as investments, the government added.
In return, government officials have assured the investors of investment security, while experts have suggested that the government takes it an opportunity to fully implement investment commitments made by investors in the context when there is political stability following the conclusion of elections at all three levels–federal, provincial and local.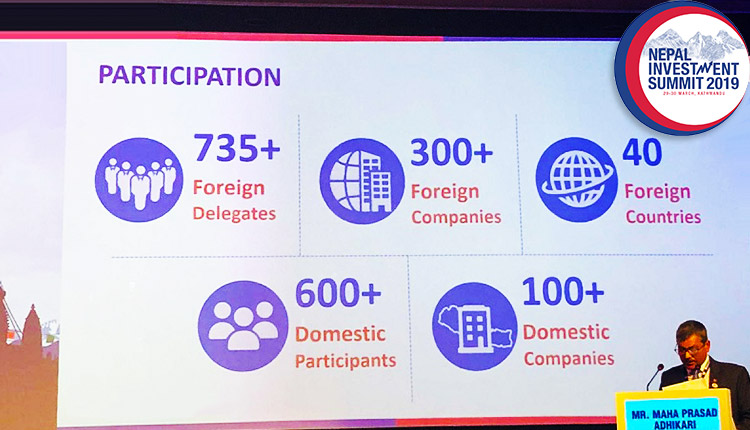 Hope for expected foreign investment
The government expects more than Rs 30 trillion investment from the Summit. The showcasing of 77 projects in the Summit could assure the investors attending the Summit and help meet the expected investment target, said chief executive officer of the Investment Board Nepal (IBN), Maha Prasad Adhikari. Experiences from previous such summits could also work, he added.
"Projects have been showcased for the investors. We are expecting investment proposal, and some of them have already started coming in," he said. The government would follow up on the investment commitments, and for this, a mechanism would be formed through the Investment Board Nepal, he added.
The Summit witnessed the signing of 15 deals and memorandums of understanding between Nepali and foreign companies. These are as follows :
Chaudhary Group and Sharraf Multipurpose Center for development of Multi-model Logistics Park
CG Lifecell and Turk Cell sign agreement on 5G mobile network services
MoU between CG Infrastructure Pvt Ltd and Province 2 government for development of Solar Photovoltaic Energy
JV agreement between Chaudhary Group and Sky Power for the development of 600 MW utility scale solar photo voltaic project.
Agreement on Arun III Hydropower between Nepali Banks and SJVN India – 900MW Project
Upper Trishuli Hydropower and Korean Firm KOSEP- $650 million
Investment on Kali Gandaki Gorge Hydropower Project – Joint Development agreement between Yunnan Xinhua Water Conservatory and HHydropower Investment, Hydro Solutions Group and Shanghai Investigation, Design and Research Institute for development of 164 MW Project.
Simara SEZ – Agreement between IBN, IFC and SEZ Authority
Himalaya Boutique Resort -Agreement between Sincere Consulting Company & Resources Himalaya in Banepa
NRNA Investment – Rs 10 Billion
JV agreement between National Collateral Mgmt. Services Ltd and Nepal Warehouse Company Limited for the development of Grain Ware House – NIMBUS Group
Investment Board Nepal & Investment Board South Africa
Muthoot Finance and United Finance  – Rs 399 million
API Power & Kandel Group UK – Hydro, Solar and Wind Power
Myanmar's Licensed Contractors Association and Federation of Contractors' Associations of Nepal
Dolma Himalaya Energy for Solar Plant – $80 million