Google Pixel 3a, Pixel 3a XL to get India launch on May 8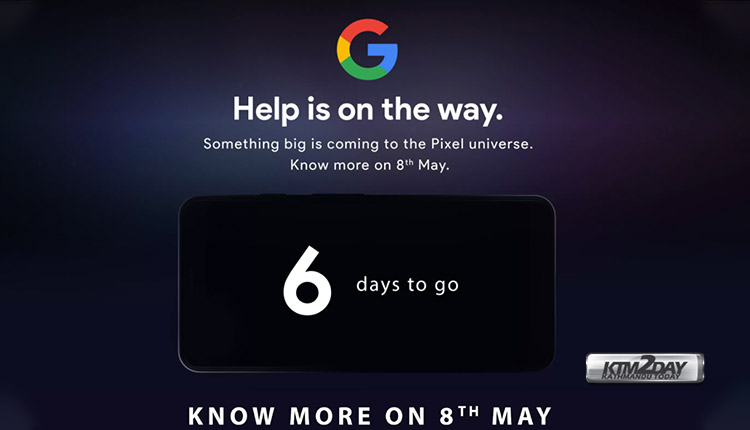 Google is going to introduce a new line of Pixel smartphones which according to numerous leaks will offer a comparable picture quality as one of it's current Pixel 3, but at lower cost.
The new lineup has been teased in India's Flipkart Online store's micro-site displaying text "Help is on the way" along with "Something big is coming to the Pixel universe. Know more on 8th May".
Google I/O 2019 is going to take place from May 7-9 where the company shows off it's latest software developments, there are hints that we may see new hardware at the show too.
Google later confirmed that new hardware will be launched on May 7 at I/O 2019. This will most likely be the Nest Hub Max and the Google Nest Hub along side the mid-range Pixel 3a and Pixel 3a XL.
Notably, Google had already teased "something big is coming to the Pixel universe" on May 7, which is also the day the Google I/O 2019 developer conference kicks off.
At the same keynote, Google is also expected to detail the Android Q version.
Although the teaser image doesn't mention any specifics, it is not far-fetched to assume that India will most likely be among the first crop of countries to get the new Pixel smartphones, especially given the phone are expected to be mid-range devices with comparably affordable price tags.
To recall, Pixel 3a is rumoured to feature a 5.6-inch full-HD+ (1080×2220 pixels) screen, whereas the Pixel 3a XL will reportedly have a 6-inch full-HD+ (1080×2160 pixels) screen.
The Pixel 3a will be purportedly powered by a Qualcomm Snapdragon 670 SoC while the Pixel 3a XL will get a Snapdragon 710. Both are expected to pack 4GB of RAM and have at least 64GB of onboard storage.
We expect to hear more about India availability and pricing of the new Pixel phones during the Google keynote and later via Flipkart. Google keynote starts at 10am PDT (10:30pm IST May 7) and ends at 11:30am PDT (12:00am IST, May 8).