OPPO Reno 5G version throttles at 1.5 Gbps speeds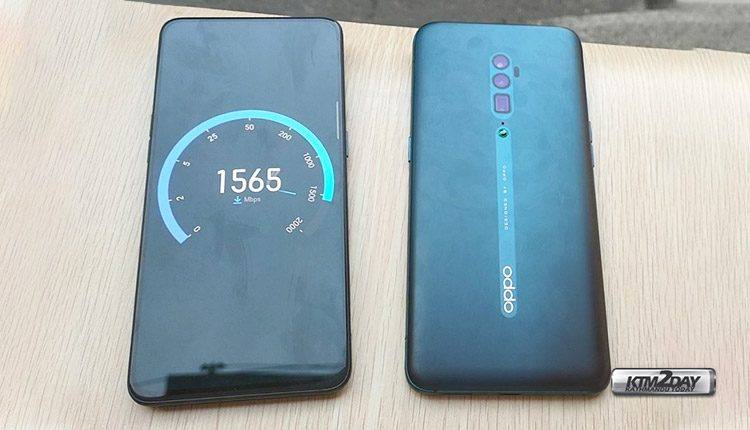 Recently, OPPO achieved over 1.5Gbps peak download rate in the external 5G network environment through the OPPO Reno 5G version of the mobile phone, and stabilized at around 1.4Gbps download rate. Based on this rate, OPPO Reno 5G version can download large games and files in seconds and is future proof for online gaming. The upcoming 5G applications experience will surely excite its users.
The field test was conducted on China Mobile's outbound 5G network environment, and the iPerf test tool completes the downstream packet-filling operation from the server to the handset device. In the test, the Reno 5G version broke the 1.5Gbps outbound downlink rate and visually demonstrated the network connection performance of the 5G mobile phone.
Compared to the traditional 4G mobile phone, the Reno 5G mobile phone will help users to achieve a new experience with download speeds, such as a 1080P resolution movie which takes only a few seconds from the download to complete. Similarly, online streaming of videos also takes only seconds to load and a user can drag the timeline to any position arbitrarily without waiting for the content to load. This gives almost  no waiting period for download experience and will break through the 4G era viewing experience.
In addition, based on the high rate and low latency of 5G networks, users can indulge in large-scale game experience in the cloud. In other words, users can play any game they want anytime, anywhere based on 5G network, and get the same experience as games stored on their device. The smooth experience saves time for large game downloads and installations also saving storage spaces on devices.
The OPPO Reno 5G version debuted during the 2019 OPPO Innovation Conference and was officially launched in Europe on April 24. The Reno 5G version is equipped with the flagship Snapdragon 855 mobile platform and X50 5G modem, which solves many challenges in antenna design, baseband, RF, power consumption, etc., and has complete 5G communication capabilities.