Yeti Airlines becomes first Carbon Neutral Airlines in Nepal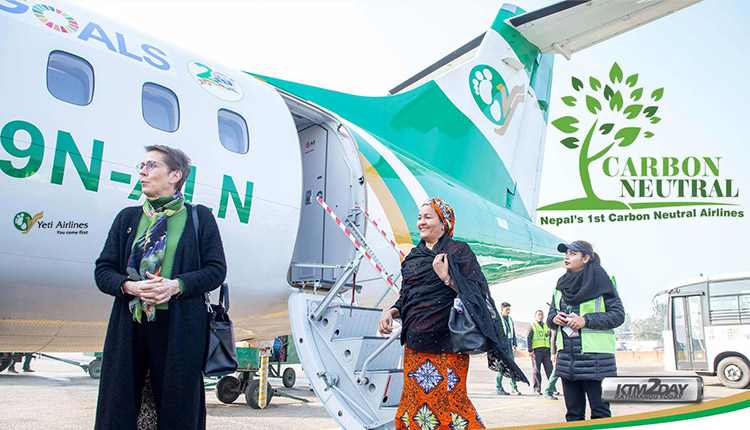 Yeti Airlines has become the first airline in Nepal, and most probably South Asia, to successfully reduce and offset its total greenhouse gas (GHG) emissions of 2018, replicating the UN's 'Greening the Blue' approach to climate neutrality.
The airline underwent an independent carbon audit process facilitated by the United Nations Development Programme (UNDP) that calculated the airline's total carbon emission and laid out plans to reduce and offset the same, as per a media release issued today.
The audit revealed that Yeti Airlines produced 19,665 tonnes of CO2 equivalent emission in 2018 from its entire operations, including flights, vehicles and other facilities. This equals the amount of carbon sequestered by approximately 325,165 trees growing over 10 years. The emission from its flight operations accounts for over 99.9 per cent of its total GHG emissions.
As part of the emission reduction plan, between 2017 and 2018, the airline was able to reduce CO2 equivalent emissions per flight km by 20 per cent and per passenger by 12 per cent after adopting a more fuel-efficient aircraft fleet. The airline has achieved lower per passenger GHG emissions by expanding its fleet of fuel-efficient aircraft, that is, ATR72-500 while gradually phasing out its Jetstream 41 operations.
Yeti Airlines was also able to offset its GHG emissions by procuring carbon credits.
In the past, Yeti Airlines has undertaken environmental and social projects such as the Yeti Green Re-forestation Project, Green Far West Project and the Everest Clean Up campaign.