ZTE Axon 10 Pro launched with Snapdragon 855, 12 GB of RAM, 5G and fast file system F2FS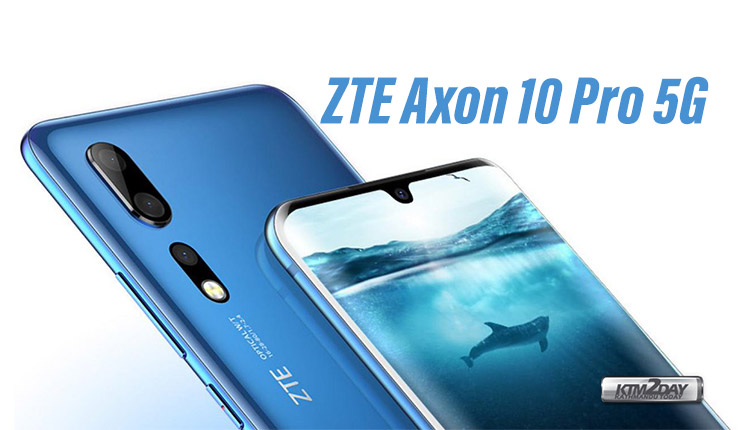 ZTE announced the flagship smartphone Axon 10 Pro back in February at the MWC 2019 exhibition help in Spain, well recently the company announced the launch of its latest flagships at an event hosted in China.
Each manufacturer tries to make its flagship something unique, specifically in ZTE Axon 10 Pro, the uniqueness lies in the F2FS file system. Actually, this model is the first in the world with the top platform Snapdragon 855 and F2FS.
Also read  : Realme to launch Realme X Pro,Realme X and Realme X Lite(Realme 3 Pro) in China on May 15
In a nutshell – it provides high read speeds and better performance when reading and writing random access in 4 KB blocks. And this model was the first in which the Sandisk iNAND 8521 memory module was used, providing read speeds up to 800 MB / s and write speeds up to 500 MB / s.
ZTE Axon 10 Pro comes with a 6.47-inch AMOLED display with a resolution of Full HD + (2K resolution was previously mentioned ), occupying 92% of the front panel area. The thickness of the bottom frame was only 1.8 mm, but at the top everything "spoils" the drop-shaped cut-out of the front camera with a 20-megapixel sensor. As befits a flagship, the fingerprint scanner in this model is integrated into the display.
Other features of ZTE Axon 10 Pro are a triple camera with 48, 20 and 8 megapixel sensors, an NFC adapter, a 4000 mAh battery with support for QuickCharge 4+ fast charging, stereo loudspeakers. The thickness of the smartphone – 7.9 mm.
The newly launched device will go on sale in China tomorrow. Axon 10 Pro will have versions with a built-in 5G modem (with 6 GB of RAM and 128 GB of flash memory and 12 GB of RAM and 256 GB of flash memory), but nothing was said about the timing of their appearance and cost at the event.
Talking about its price, the cost of the Axon 10 Pro is on par with other Chinese flagships like the Xiaomi Mi 9. The basic version with 6 GB of RAM and 128 GB of flash memory is priced at $ 473. The $ 547 mid-range option has 8 GB of RAM and 256 GB of flash memory. Finally, the top version offers 12 GB of RAM and 256 GB of flash memory, and its price is $ 621.