Kami Rita Sherpa does it again, breaks his own world record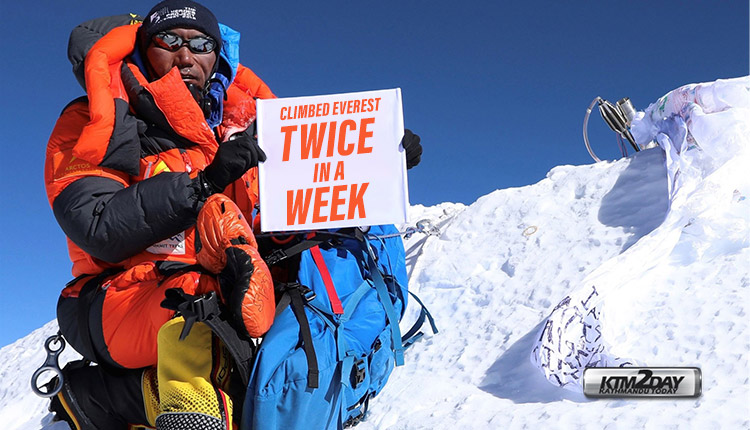 Veteran mountaineer Kami Rita Sherpa has broken his own world record for the most number of Everest summit climbs in a week.
Department of Tourism official Mira Acharya said Rita reached the summit on Tuesday along with several other climbers taking advantage of favorable weather.
Sherpa, who had climbed Everest for the 23rd time a week back, stood atop the world's highest peak again on Tuesday morning. With this, the super climber has bolstered his own world record even as another climber, Ngima Sherpa, is making his 22 summit bid, from the northern side.
Only a few windows of good weather each May allow climbers the best chance of summiting Everest.
In 2017 Kami Rita became only the third person to climb Everest 21 times, equalizing the summit counts of Apa Sherpa and Phurba Tashi Sherpa. He set a record for the most number of Everest summits in 2018.
Apa and Phurba Tashi have already announced their retirement from mountaineering. But 30-year-old Ngima is young enough to overtake Kami Rita's record.
Kami Rita, who is 49, wants to stop climbing Everest when he turns 50 . Before that, he plans to achieve 25 successful Everest summits—a number that would be half his age.
Born in a remote Thame village in Solukhumbu, Kami Rita was initially a climbing guide. He started out in life as a trekking boy at the age of 12 to help support the family. He doesn't want to stop climbing until he has done his 25th Everest summit.
Thereafter, he says he plans to work as a base camp manager.