Gold price in Nepal at all time high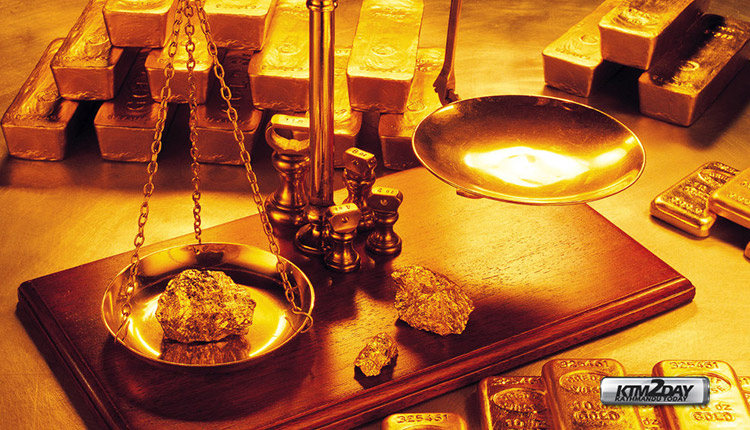 Gold price in Nepal jumped by Rs 1,000 per tola to hit an all-time high of Rs 64,000 on Thursday after a two-week streak of rising prices. The precious metal has been moving up since the budget statement was released on May 29 when the import duty was jacked up by Rs 800 per 10 grams. Gold become dearer by Rs 4,500 per tola in two weeks.
Local bullion traders said that the US-China trade war pushed up the price of gold globally, and it looks like increasing further if the conflict escalates. According to reports, the trade war could turn into a currency war, further boosting investor demand for gold. Domestic prices are mainly fixed on the basis of prices in the international market.
The clash between the US and Iran over uranium enrichment has further pushed up prices. The trade war will send investors towards gold as a safe haven.
The hike in customs duty also made gold more expensive. The Department of Customs said that the duty was hiked to match bullion prices in the Indian market in order to prevent smuggling. Gold was relatively cheaper in Nepal before the budget statement.
Tej Ratna Shakya, past president of the Federation of Nepal Gold and Silver Dealers Association, said there was a possibility of prices rising further if the US-China trade war did not cool down.
On Sunday, gold prices hit a four-month high of Rs 63,000 per tola in the local market. The yellow metal has reached Rs 63,000 per tola on two occasions, on March 8 this year and on August 28, 2013.
The association said gold was traded at Rs 62,300 on Thursday. The price increased by Rs 700 per tola in a single day to close at Rs 63,000 on Friday. It reached Rs 63,000 on Sunday.
International bullion traders have estimated that gold will touch $1,400 per ounce by the end of 2019, and it has already reached $1,380 per ounce, said Shakya.
The rise in prices has pushed down demand in the local bullion market. Gold sales which used to amount to 35 kg daily during this time of the year in the past have shrunk to 25 kg, Shakya said.
"Demand falls sharply when prices cross Rs 60,000 per tola," said Shakya.
"Gold demand currently has been reduced by 44 percent during the peak season." The period mid-June to mid-July is considered to be a peak gold season as it is an auspicious time for weddings. Though traders expected a rise in demand for the precious metal, buyers are staying away, he said.
According to Reuters, bullion for immediate delivery jumped as much as 2.5 percent to $1,394.11 an ounce in Singapore, the highest since September 2013 while futures in New York also neared $1,400 an ounce, also the highest since 2013. Spot gold may gain more to $1,404 per ounce, as it has cleared a resistance at $1,371, according to Reuter's technical analyst Wang Tao.