Samsung Galaxy Tab 8.0 2019 launched with SD 439 and 5000 mAh battery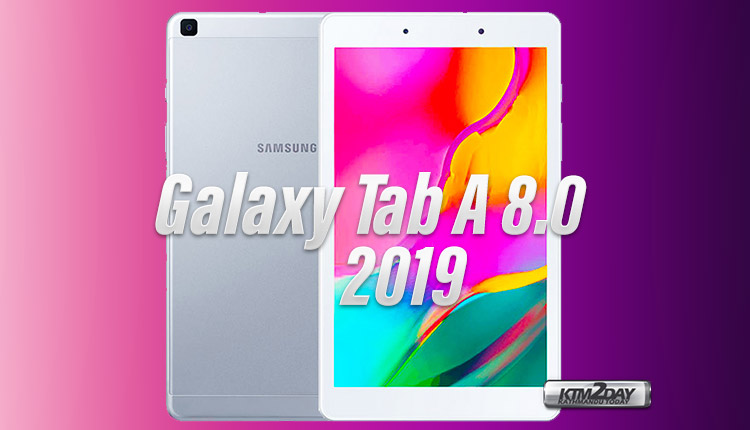 Smartphones sales in recent times is slowing down across several global markets because people are holding to their old handsets and not buying newer ones. The holding time has also increased from 3 to 3.5 years and the condition is even worst for tablets.
Samsung continues to bet strong in this segment thus it has introduced the new Galaxy Tab (2019).
Last year the company had launched the Samsung Galaxy Tab the 8.0 (2018) in September but this year it decided to launch a bit earlier.
The Korean smartphone giant has refreshed the model with Samsung Galaxy Tab 8.0 (2019). As its a tablet for the budget segment so we do not expect to see top of the line hardware.
Samsung Galaxy Tab A 8.0 (2019) runs Android 9.0 Pie and features an 8-inch WXGA (1280×800 pixels) TFT display that has a 16:10 aspect ratio. There is a Qualcomm Snapdragon 429 quad-core SoC, paired with 2GB of RAM. Also, the tablet has 32GB of onboard storage that is expandable via microSD card (up to 512GB).
The tablet features an 8-megapixel camera sensor at the back and a 2-megapixel camera sensor at the front. There are also dual speakers for a stereophonic audio experience.
The rear design includes a camera in the top left corner. The back seems to be made of metal and plastic at the ends. This is due to the antenna. The tablet is available in black and silver variants.
The black variant has a black frame around the screen. The rear panel is also black. The silver variant has a grey back, while the frames are white.
The device is powered by a 5100mAh battery. The Galaxy Tab comes in WiFi and LTE variants.
It also includes a free YouTube Premium subscription of 2 months along with Spotify Premium for 3 months.
Samsung hasn't yet revealed the price and availability of the Galaxy Tab A 8.0 (2019).