Samsung demonstrates Galaxy A80 flipping camera mechanisms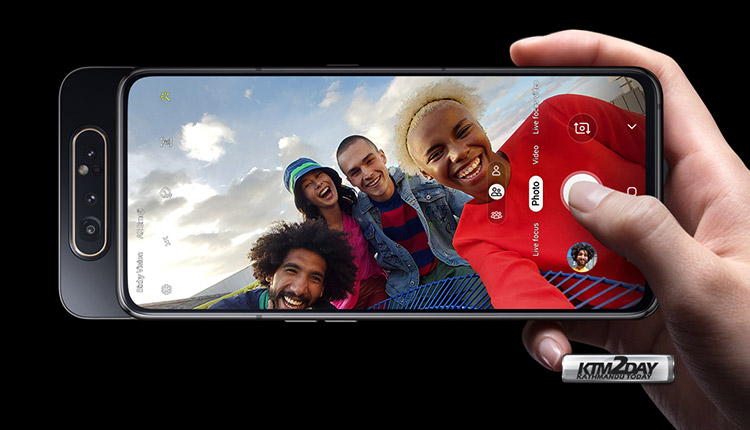 Samsung has revealed details about the flipping camera working in the Galaxy A80 smartphone . According to the manufacturer, developing a smartphone with a PTZ camera(Pan-Tilt-Zoom) was a unique task.
The Galaxy A80 is Samsung's first smartphone to feature a "New Infinity" display that's free from notches or punch-holes. To make it possible to offer a full edge to edge viewing experience, the Korean smartphone maker had explored a different way to solve the selfie camera conundrum. Instead of having a single pop-up selfie camera, the A80 features a unique sliding and rotating mechanism that allows the device to use its rear triple-camera setup for selfies.

According to the technologies that already existed at that time, two motors were required for the camera to slide out of the device and then rotate. To circumvent this limitation, a solution was developed that does not require additional details and at the same time prevents premature rotation due to the mechanism with blocking gears, hook and torsion spring. This technology led to the optimization of the engine so that it was able to provide smooth vertical sliding and rotation of the camera.
To assess the design of this camera whether it can withstand active use, the PTZ camera was tested in a special Samsung lab. In it, Galaxy A80 smartphones have undergone a variety of tests that correspond to different scenarios while using a device as a daily driver.
To recap, the device comes with a 48MP main camera, an 8MP ultra-wide-angle lens and a 3D Depth camera that is used for live focus and live focus video mode. Samsung has also added that the A80 devices were put through a multitude of quality testing use case scenarios to ensure that users can consistently get the best camera experience possible even after extensive use.
In some global markets, sales of the Samsung Galaxy A80 began a couple of weeks ago at the recommended retail price of $730.