Nepal Airlines opens bookings for Kathmandu-Osaka flight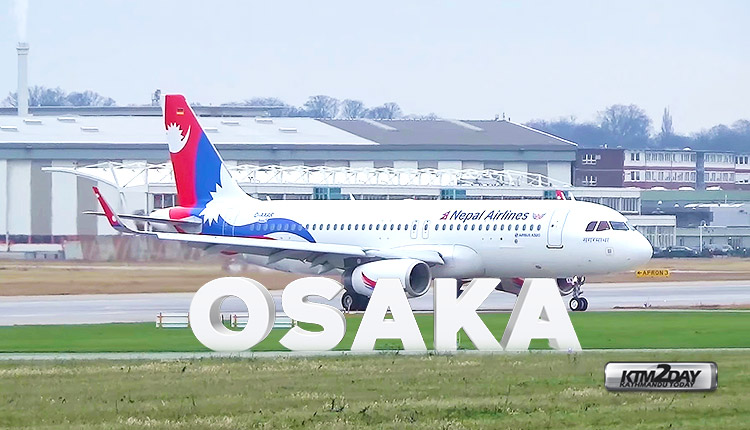 Nepal Airlines Corporation (NAC) has opened bookings for Kathmandu-Osaka-Kathmandu flights.
The state-owned carrier is launching its scheduled flight to Osaka from August 29. NAC had earlier announced to start Osaka flights from July 5. However, it postponed the maiden flight to August 29, citing poor bookings.
NAC will operate Osaka flights three times a week — on Tuesdays, Thursdays and Saturdays. The flight will take off from Kathmandu at 2:30 am and land at Osaka at 11:55 am (local time). NAC has fixed one-way flight fare at Rs 45,000 and Rs 75,000- 90,000 for round trip.
The national carrier will use Airbus A330-200 aircraft for Osaka flights.
NAC is resuming direct flights to Osaka of Japan after a hiatus of 12 years. Although the state-owned carrier had started flying to Osaka via Shanghai in 1994, it had suspended the flight in 2007 citing shortage of aircraft. NAC had used Boeing 757 aircraft for Osaka flights at that time.
Japan Civil Aviation Bureau (JCAB) permitted NAC to resume its flight to Osaka after Nepal and Japan signed Exchange of Notes on revising the Air Service Agreement earlier this year.
The resumption of direct flights is expected to benefit Nepalis residing in Japan and also Japanese tourists visiting Nepal. The operation of direct flights to Osaka is expected to provide some relief to the loss-making national flag carrier.
NAC has been operating scheduled flights to New Delhi, Doha, Dubai, Hong Kong, Kuala Lumpur, Bangkok, Mumbai, and Bangalore with two Airbus A320-200s and two Airbus A330-200.