Samsung Introduces Exynos 9825 Processor built using 7nm EUV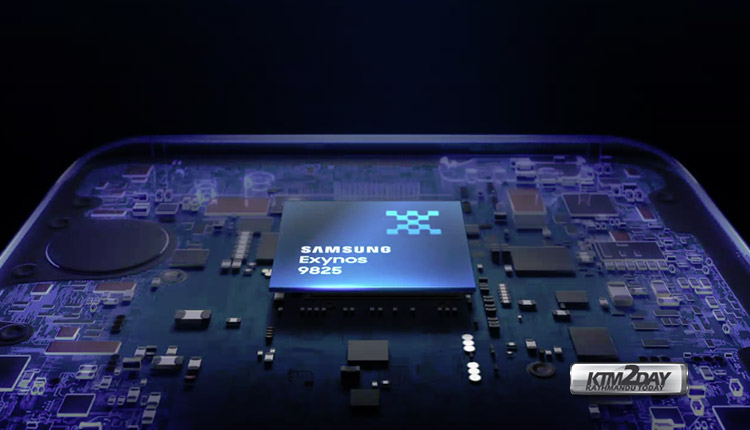 With the Samsung Galaxy Note 10 being launched today, Samsung has already announced the processor that will power this device in most markets. The Samsung Exynos 9825 is the world's first processor made with Samsung's EUV (extreme ultraviolet) technology for a much more refined product.
The manufacturing process of the new Exynos 9825 is somewhat different than other SoC's in the market. This is the first processor developed based on 7nm lithography accompanied by extreme ultraviolet production process.
Exynos 9825 Specifications
CPU: 2 M73 Cheetah cores at 2.73GHz + 2 Cortex-A75 at 2.31GHz + 4 Cortex-A55 at 1.95GHz
Graphic: Mali G76MP12
Rear camera: 22MP and two 16MP + 16MP lenses
Front Camera: 22MP
Video: 8K recording at 30fps or 4K at 150fps
Mobile Connectivity: Shannon 5000 Cat.20 DL, Cat.13 UL
Thus Samsung was able to develop thinner circuits, which results in more performance and higher energy efficiency. The performance won't be much higher than compared to the existing Exynos 9820, but the difference in the performance level can be felt.
The Exynos 9825 utilizes 4 Cortex-A55 for low load tasks, supported by 2 high power Cortex-A75 cores, and finally two more 4th generation custom cores for the most demanding tasks. The same Mali-G76 MP12 graphics can be found here, but Samsung tells us that with a higher frequency the performance will be even more better.
The Exynos 9825 also has a built-in neural processing unit, which will give you particular potential for Artificial Intelligence. These features will help in further enhanced experience in photography, with the camera being able to automatically recognize different scenarios.
With the gaming industry growing rapidly, Samsung could not forget this niche market. We now have the Mali G76MP12 graphics, with higher processing frequencies compared to previous generations.
When combined with the CPU power of this new SoC, Samsung believes the Exynos 9825 will be able to provide a fluid gaming experience.
In terms of connectivity, the Exynos 9825 comes with a Shannon 5000 Cat.20 / 13 modem, but is compatible with 5G technology thanks to the Exynos 5100 bundling which should only be available on the Galaxy Note 10+ 5G version.
The image is certainly one of the strengths of the Exynos 9825 which is compatible with two 16MP cameras or a 22MP front camera and a similarly sized main camera. The chip supports 4K and WQUXGA (3840 x 2400) displays, enabling 8K video encoding at 30fps and UHD content viewing in HDR10 +.
The performance of this chip in real context is yet to be seen, but it seems to be launched to maintain the Exynos family's competitiveness that many see as inferior to the Qualcomm alternative, at least in terms of performance. We will certainly have to see how far the gains from ultraviolet lithography go compared to "traditional" semiconductor manufacturing methods.