Traffic Police books 12,749 taxi drivers in the last fiscal year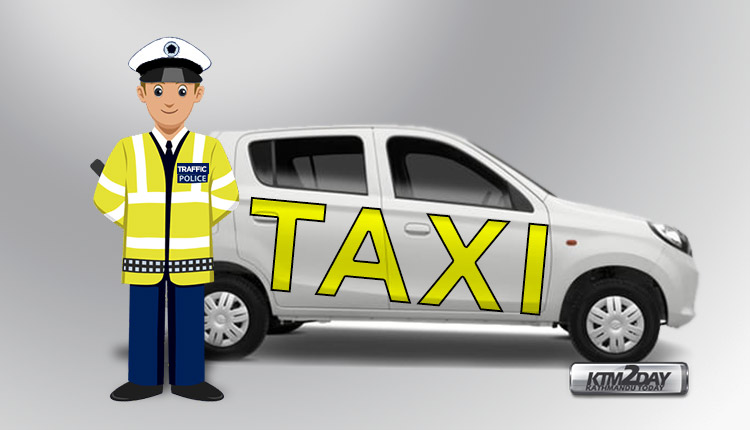 Metropolitan Traffic Police Division booked 12,749 taxi drivers for violating various traffic rules in the last fiscal year 2018-19. The number of cabbies booked was significantly higher compared to the previous fiscal year 2017-18, when 8,700 taxi drivers were booked.
Traffic police say the trend of lodging complaints via social media and awareness regarding complaining procedures helped them initiate action against more errant taxi drivers.
"We were able to issue tickets to more cab drivers as the number of complainants increased," said Senior Superintendent of Police Basanta Panta, who is also the chief of the division. "We have also given more priority to address people's problems lodged through social media such as Twitter and Facebook."
According to him, the traffic police hotline number 103 has also been used widely by the public to lodge complaints.
Taxi ride in Kathmandu often is a cumbersome affair. While most of the cabbies are reluctant to take passengers to their destinations, others charge money more than the fare-metre reading.
Earlier, due to lack of a proper mechanism to lodge complaints, fewer cabbies were booked for violating fare and traffic regulations.
"More and more people have started to reach out to us these days," said Pant.
In the last fiscal year, the division had booked 700 taxi drivers for overcharging, metre tampering and refusing service to passengers.
The division launched its Twitter and Facebook pages on July 18, 2017, to interact with the members of the public and to take complaints against errant cabbies and motorists.
The division office has 57,000 Facebook followers and 25,000 Twitter followers. Rabi Kumar Paudel, spokesperson for the division, said over 90 percent complaints are lodged through Twitter.
"Those who are active on Twitter are quick to lodge complaints. They even include the images of the errant taxis, making it easier for us to take action," said Paudel.
According to him, among the total taxis booked last fiscal year, 90 percent had refused to take passengers to their destinations.
The division fines Rs 3,000 to those taxi drivers who refuse to use fare-metres or take passengers.
Drives found involved in tampering fare-metre are sent to Nepal Standards of Metrology Department for further action.