Samsung launches R-Series Smart TV in Nepali market(With Price List)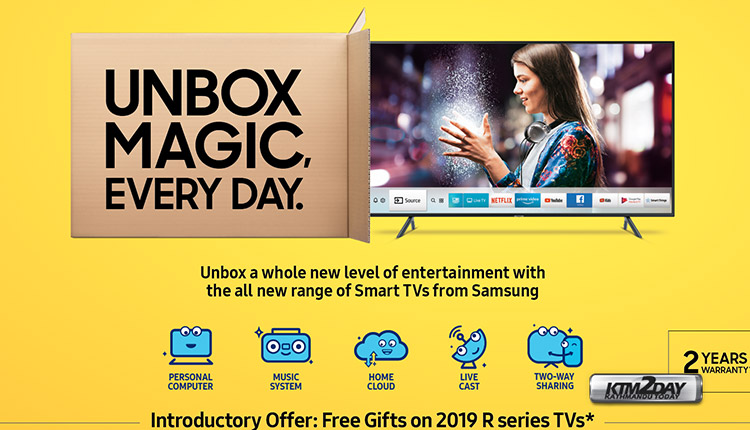 Samsung has announced its latest Smart TVs, R Series with industry-first unique benefits such as personal computer, music system, home cloud, live cast and two-way sharing.
The new TV line-up along with these never-seen-before benefits will redefine the term 'Smart' in Smart TVs and take the home entertainment experience to a whole new level, as per a media release issued here on Thursday.
Samsung has announced an introductory week offer to its consumers. Consumers can enjoy a free latest Samsung smartphones with the new R series Smart TV. On purchase of Samsung 75-inch R Series TV RU7100, the buyer will get Samsung Galaxy S10; with 65-inch R Series TV, the buyer will get A70; with 55-inch R Series, the buyer will get A50; and with 49- and 43-inch R Series, the buyer will get A30 and A20, respectively.
The offer is available all over Nepal from dealer's network of authorised distributors, Him Electronics and Triveni Byapaar Co. This introductory offer is valid till August 22, the release adds. R series offers a wide range of features giving the user a whole new experience.
4K Smart
43 inch
UA43RU7100RSHE
MRP Rs. 110690/-
49 inch
UA49RU7100RSHE
MRP Rs. 168990/-
55 inch
UA55RU7100RSHE
MRP Rs. 183990/-
65 inch
UA65RU7100RSHE
MRP Rs. 289990/-
75 inch
UA75RU7100RSHE
MRP Rs. 699990/-
FHD Smart
43 inch
UA43N5300ARSHE
MRP Rs. 86,990/-
49 inch
UA49N5300ARSHE
MRP Rs. 127,990/-
HD Smart
32 inch
UA32N4300ARSHE
MRP Rs. 56,990/-