iOS 13 available for download – List of Comaptible devices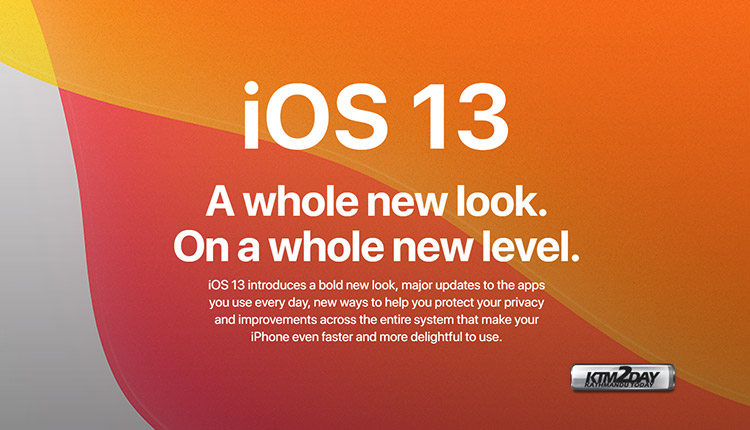 The final version of iOS 13 is now available to Apple users. The highlight of this version is the dark mode, which will darken the user interface of the entire operating system at the selection by the user.
The new mode will also be available in Apple applications such as iMessage or Photos. All third-party applications that have Dark Mode support will automatically be actiavted once upgraded to iOS 13.
In iOS 13, the company doubled the application download speed and accelerated by 30% face scanning via Face ID. At the same time, Apple got rid of old sores – removed the restriction on the size of downloaded applications in the App Store via the mobile network, removed the large volume control window that covered most of the screen, and even added a separate button for emoji. Apart from these new features users can also get quick access to settings through the Control Center in the new version.
As usual at Apple, the list of compatible devices is extensive. The oldest to receive this upgrade are the iPhones 6S and 6S Plus, released in 2015. In addition to iPhones, the seventh-generation iPod Touch will also have access to iOS 13.
Here's the complete list of devices eligible for upgrade to iOS 13 :
iPhone 11 Pro
iPhone 11 Pro Max
iPhone XS
iPhone XS Max
iPhone XR
iPhone X
iPhone 8
iPhone 8 Plus
iPhone 7
iPhone 7 Plus
iPhone 6S
iPhone 6S Plus
iPhone SE
iPod Touch (7th generation)
Another notable change is the slide mode on the keyboard. This is an old feature on Android, and now finally arrives on the native keyboard of Apple devices.
iOS 13.1 arrives on September 30th
While iOS 13 is already available, iOS 13.1 will be released on September 30th. This will be a refined version, with improvements that were supposed to be in the base version. One of the highlight of this release will be the possibility of Siri reading incoming messages aloud. Additionally the iOS 13.1 will also come with latest security patches.
How to upgrade:
To update your iPhone, simply go to ' settings ' and then choose ' Software Update '. So you'll have iOS 13 with Dark Mode, but you should keep in mind that at an early stage some bugs may be encountered in this release.