Samsung Exynos 990, 7nm processor launched for future flagship smartphones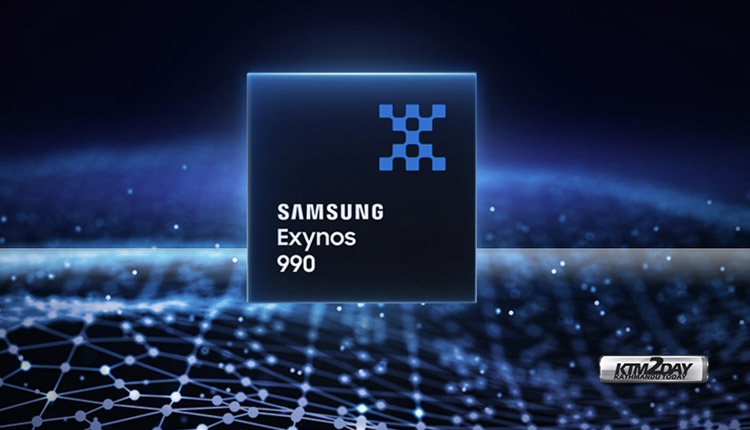 Samsung Electronics at the Samsung Tech Day 2019 event introduced two new products for the next-generation flagship smartphones – the flagship mobile processor Exynos 990 and the 5G modem Exynos Modem 5123.
Both products are made using a 7-nanometer process technology. The technology involved Extreme Ultra-Violet (EUV) – photolithography in deep ultraviolet.
The Exynos 990 chip uses a three-cluster architecture. It contains a block with two customized cores, another block with two Cortex-A76 cores, and a block with four Cortex-A55 cores. Clock frequencies are not specified.
The graphics are handled by the Mali-G77 MP11 controller. The processor includes a dual-core NPU module, which is responsible for accelerating the execution of operations related to artificial intelligence.
The chip provides support for displays with a resolution of WQUXGA (3840 × 2400 pixels) and 4K UHD (4096 × 2160 pixels). Single cameras with a resolution of 108 million pixels or dual cameras in a configuration of 24.8 million + 24.8 million pixels can be used.
It is also noted that the processor provides support for UFS 3.0 and UFS 2.1 flash drives, LPDDR5 RAM, and video in 8K 30fps or 4K UHD 120fps formats.
The 5G Exynos Modem 5123 modem, in turn, supports 5G communication in the range below 6 GHz and in the millimeter wave spectrum. In the first case, the data transfer rate can reach 5.1 Gbit / s, in the second – 7.35 Gbit / s.
In addition, the new modem supports almost all cellular networks of previous standards. These are 2G GSM / CDMA, 3G WCDMA, TD-SCDMA, HSPA and 4G LTE.
The new chips, most likely, will become part of future flagship smartphones Samsung – Galaxy S11 devices, the announcement of which will take place at the beginning of next year.