58K Bikes registered in the last 10 months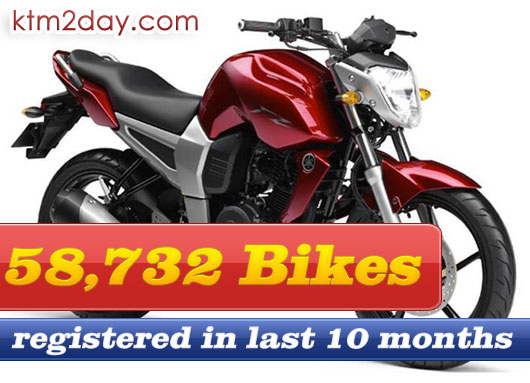 Registrations of two-wheelers in Bagmati Zone have soared despite a liquidity crunch and reluctance of financial institutions to provide loans to buy them.
The Bagmati Zone Transport Office, Motorcycle Unit registered a total of 58,732 motorbikes during the first 10 months of the current fiscal year.
It represents an increase of 20.32 percent compared to the 48,811 motorbikes registered during the whole of the last fiscal year.
"We have been registering an average of 5,000 to 6,000 bikes each month," said Madan Singh Mahat, office in-charge and under secretary of the Motorcycle Unit. "Normally, this is not the season.However, registrations have increased significantly as motorcycle dealers have been offering attractive promotional schemes."
Increased disposable income, easy transportation and craze for motorcycles among the young generation are also some of the reasons behind the increased number of bikes hitting the roads, added Mahat.
Along with registrations, revenue collection has also increased significantly. The Bagmati Zone Transport Office took in Rs. 147 million as revenue from two-wheelers during the last fiscal year. This year, revenue has already surpassed Rs. 701 million in the first 10 months.
In response to the disinclination among banks to provide financing for motorcycles and growing unsold stock, two-wheeler dealers have been launching various promotional schemes that provide attractive gifts and sure-shot cash prizes.
"Sales have increased compared to last year," said Shekhar Golchha, director of the Golchha Organization. "However, two-wheeler sales have declined 20-25 percent in the last two months because of a cash shortage in the market." Hansraj Hulaschand, a subsidiary of the Golchha Organization, is the sole authorised distributor of Bajaj two-wheelers for Nepal. It offers a 21" colour television free on the purchase of a Bajaj bike.
"Motorcycle dealers have been forced to launch free offers and clear their unsold stock before they start suffering heavy losses," said Golchha. "Financial institutions are not interested in providing finance, and even if they do so, they charge interest as high as 16 percent."