6.8 magnitude tremor rocks Nepal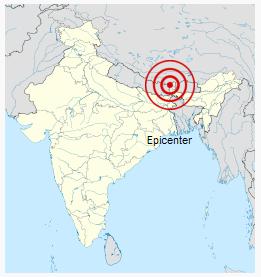 A tremor of 6.8 magnitude rocked Nepal, with shocks felt as far as Kathmandu Valley and its surrounding districts on Sunday evening.
According to earthquake.usgs.gov, the epicenter of the quake was at the eastern Nepal bordering with India.
The quake was felt around a minute in the Capital. However, the exact duration of the quake has yet to be verified.
After the quake rocked, people were left panic-stricken and started running out of the buildings to open ground.
Nepal is situated on the border between two huge tectonic plates that have moved together over millions of years to form the Himalayas, geologists say.
(Source:ekantipur)
_____________________________________________________________________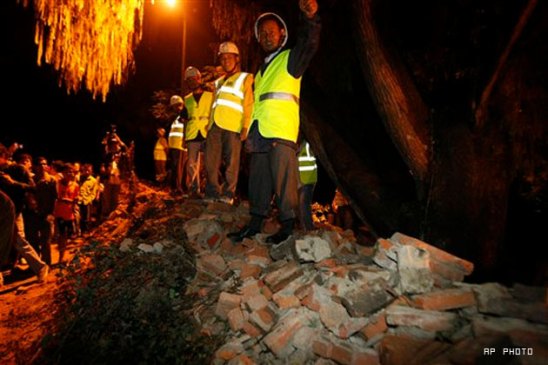 Quake toll jumps to 5' Cabinet calls emergency meet
The toll from the 6.8-magnitude earthquake that rocked the length and breadth of Nepal at approximately 6.25 pm on Sunday evening has gone up to 5. Three persons died when the wall around the British Embassy in Nepal collapsed in Lainchaur in the capital while two deaths have been reported from the western city of Dharan in Sunsari district.
The injured in the British embassy incident were rushed to Manamohan Memorial hospital in Lainchaur. However, three of them succumbed to their injuries during the course of the treatment. They are identified as Sajan Shrestha (36), Anisha Shrestha (8), and Bir Bahadur Majhi.
The casualties in Dharan have been identified as Santos Pariyar (22) and Bimala Pariyar(5).
15 injured have been admitted to Bir Hospital with injuries including broken limbs.
Two persons were injured in Central Jail when they tried to make their escape when the quake struck the capital.
The epicentre of the quake was 64 kms from Gangtok, the capital of the northeastern Indian state of Sikkim which shares the border with eastern border in Taplejung.
The toll in India is reportedly at nine with seven deasths reported from Sikkim alone. The quake is among the biggest recorded since 1934.
The Lainchaur-based National Siesmological Centre has recorded two minor aftershocks and 45 instrumental ones which cannot be felt. (Source:The Himalayan Times)