63 percent of Nepal's population is now connected to the internet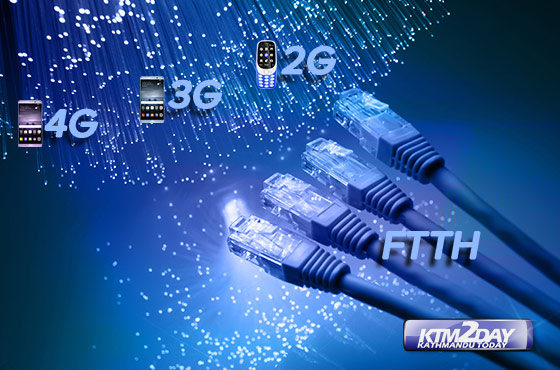 More than 250 new users were connected to the internet every hour last year, the Nepal Telecommunications Authority (NTA) said. Thanks to a mobile phone boom, a vast majority of Nepalis now have access to a phone and internet connection.
According to the NTA's Management Information System (MIS), 2.25 million new users were connected to the internet last year. That translates to more than 250 new users every hour.
As of October 2017, 16.67 million Nepalis had been connected to the internet, up 15.60 percent year-on-year. The staggering growth means that nearly 63 percent of Nepal's population is now connected to the internet.
Less than 30 percent of Nepalis used the internet in 2010. The number of internet users has been growing rapidly largely due to the result of a competitive market, service providers said.
As expected, cell phones are the main driver of Nepal's internet adoption, with 95.62 percent of the population living within range of a mobile tower.
The growth in internet penetration has been facilitated by increasing mobile connectivity across the country and availability of browsers and data connection even on relatively inexpensive phones, said the NTA.
Telecommunications service providers say that the use of data in Nepal has been increasing constantly with more people using social media platforms like Facebook and Twitter and communication platforms like Viber, Messenger, WhatsApp and WeChat.
While social networking sites are popular among teenagers and youths, platforms like Viber are popular among those having family members abroad.
"The launch of 4G service also helped increase the number of new internet users last year," said Purushottam Khanal, senior director of the NTA. As there are still some areas which are not connected with the mobile network, internet penetration is likely to grow if they are connected, he said.
Mobile-based internet in Nepal is provided through platforms such as GPRS, EDGE, and WCDMA. Of the total mobile internet users, Nepal Telecom (NT) has the largest base of 8.66 million users, representing 54.91 percent of the market. Its closest rival Ncell has 7.41 million users, commanding 42.43 percent of the market. The remaining users are customers of United Telecom Limited (UTL) and Smart Telecom.
Internet penetration has also been growing through cable and fibre networks provided by different internet service providers (ISPs). The ISPs have 322,433 customers or 1.93 percent of the total number of internet users.
The internet service provided by ISPs or through cable and fibre networks can be consumed in large quantities as subscription for a given internet speed can be utilized without a threshold for data. This scheme is largely used by offices. However, mobile-connected data is mostly charged according to data consumption. According to Khanal, the internet service provided by ISPs is likely to be underrepresented as a single connection can be utilized by multiple users in a family, school or public places. There are at least 23 ISPs in Nepal.
World Link has the highest customer base of 64,170 customers, and Subisu Cable has the second highest user base of 53,732, followed by Broadlink Network and Communication with 21,581 users.