64 thousand tourists visit Nepal in March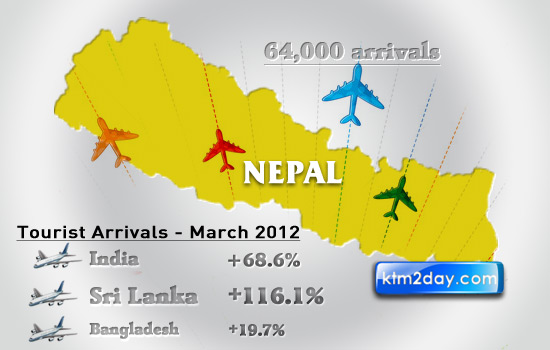 Tourist arrivals in March surged 37.2 percent year on year to reach 63,799 persons, said the Immigration Office, Tribhuvan International Airport (TIA). Similarly, inbound during the period January-March rose 27 percent to 148,546 against the same period in 2011.
All the tourist generating regions have shown positive growth in the third month of 2012. Arrivals from the South Asian region registered an overall positive growth of 61.4 percent. India, which constitutes the major source market for Nepal, recorded a robust growth of 68.6 percent with 6,606 more visitors compared to March 2011.
Visitor arrivals from Sri Lanka soared 116.1 percent while arrivals from Bangladesh were up 19.7 percent and from Pakistan 19.5 percent. India, which is the largest source market for Nepal, has been increasing since the beginning of 2010.
Arrivals from the South Asian region jumped 29.7 percent during the first three months of 2012 compared to the same period last year.
Arrivals from Asia (other than South Asia) have also recorded a growth of 21.5 percent in aggregate. Visitor arrivals from China, one of the fastest growing tourist markets for Nepal, soared 47 percent year on year.
Similarly, other Asian countries maintained an upward trend with Japan up 12.3 percent, Malaysia up 4.6 percent, South Korea up 24.8 percent and Thailand up 27.7 percent.
An overall growth of 42 percent has been observed from the European markets with arrivals from the UK, Germany, Spain, Sweden, Switzerland, Norway, Poland and Russia up 27.5 percent, 85.9 percent, 109.1 percent, 13.9 percent, 183.8 percent, 103.7 percent, 238.8 percent and 53.6 percent respectively.
However, arrivals from France, Italy and the Netherlands have declined 3.9 percent, 1.6 percent and 7.7 percent respectively compared to the same month last year. Tourist arrivals from Australia, New Zealand, the US and Canada and have increased 5.3 percent, 16.5 percent, 13.7 percent and 38.1 percent respectively.
A total of 59,459 foreign tourists departed from TIA in March 2012.(Source:ekantipur)