7.5 million children to be vaccinated against typhoid from April 8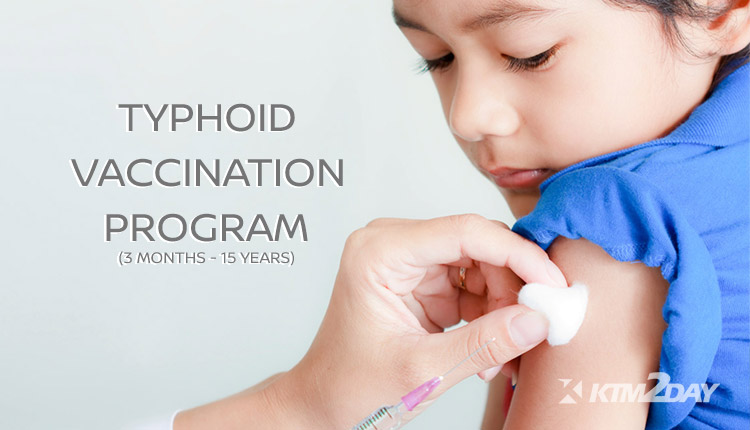 The Ministry of Health and Population has decided to vaccinate 7.5 million children across the country against typhoid.
At a press meet organized today, Sagar Dahal, Chief of Child Health and Vaccination Branch of the Department of Health Services, informed that the vaccine will be given to children from one year, three months to 15 years from April 8 to May 1(Chaitra 25 – Baisakh 18).
He said all children between the ages of one year, three months and 15 years would be vaccinated against typhoid once. GAVI (Global Vaccine Network) has provided free typhoid vaccine to Nepal.
Nepal is the first country in South Asia to be vaccinated against typhoid and the World Health Organization has recommended vaccination against typhoid in Nepal and other countries. Under the vaccination campaign, 56,298 vaccination centers and schools across the country will be vaccinated and for this 10 thousand health workers and 1,12,858 volunteers will be mobilized.
Branch Chief Dahal said that looking at the statistics of the last five years, more than 450,000 people have been infected with typhoid in Nepal. According to him, it was estimated that there were 82,449 typhoid patients in 2019. Although the infection is seen in all age groups, it is more prevalent in children under 15 years of age.
Typhoid Salmonella is a severe form of typhoid fever. The typhoid virus is transmitted to infected people through contaminated food or water. Symptoms include high fever, headache, body aches, sweating, diarrhea, and vomiting.
The intravenous typhoid vaccine provides long-term immunity to adults and children. Vaccination prevention is one of the most effective ways to fight the disease. Dr. Dipendra Man Singh, Director General of the Department of Health Services, said that typhoid would be prevented through sanitation and vaccination campaign. According to a study in Nepal, typhoid has been found in 1,062 people per one lakh.
Director of Family Welfare Division Dr. Vivek Lal said that the vaccine has been used in Nepal after 'clinical trials' in different countries, it is 85 percent effective and one dose is enough. The Typhoid Conjugate Vaccine, introduced to children in Nepal, is a vaccine recommended by the World Health Organization and used in many countries around the world.
The vaccine is said to be safe and effective. The department has urged the parents to go to the nearest immunization center and vaccinate their children as there are no other side effects besides minor symptoms such as redness, swelling, pain, fever, headache, hand, knee and joint pain.