81 TV channels apply for downlink permission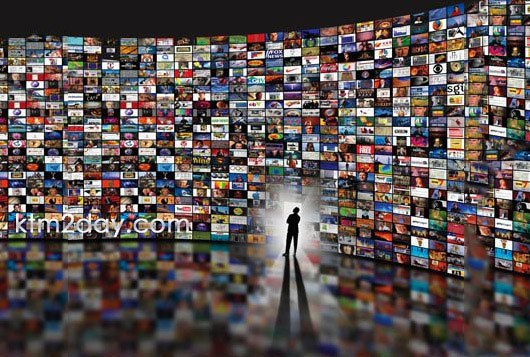 Altogether 81 foreign TV channels have applied for downlink permission with the Ministry of Information and Communications (MoIC) to broadcast in Nepal.
According to Joint Secretary Narayan Prasad Regmi, Spokesperson at MoIC, the applications were received after the ministry invited the same from parties concerned as per the new government policy that makes it mandatory to acquire downlink permission to air any foreign TV channel within Nepali territory.
"The ministry has received a total 81 applications from different foreign TV channels seeking to broadcast in Nepal," said Regmi during a press briefing at the ministry, Monday. "The ministry will give permission bearing in mind the language and content broadcast in the respective TV channels."
According to the National Broadcast Regulations 2052 BS Fourth Amendment, foreign TV channels wishing to broadcast in Nepal must get downlink permission from MoIC.
The amendment to the regulations published in the government gazette on December 7, 2009 set a six-month deadline for foreign TV channels or their authorized agents in Nepal to acquire such permission. The amendment also allows the authorities to ban any foreign TV channel deemed detrimental to the well-being of society or the national interest.
Spokesperson Regmi said they have reached an agreement with Nepal Cable TV Association and pay channel distributors to stop broadcasting TV channels that fail to receive downlink permission from MoIC.
As per the newly introduced provision, foreign TV channels that also broadcast commercials need to pay Rs 25,000 and those without commercials, Rs 50,000, to acquire downlink permission in Nepal. The permission is subject to renewal every year.
Officials at MoIC said district administration offices and post offices are entrusted with the task of monitoring if any cable operators are airing TV channels other than those they have permission for. The local administration will direct the cable distributor concerned to stop airing foreign TV channels that have failed to acquire downlink permission.
TV channels applying for downlink permission
1. Discovery Channel
2. Animal Planet
3. Discovery Travel & Living
4. Discovery Science
5. Discovery Turbo
6. Ten Sport
7. Sahara One
8. Sahara Filmy
9. BBC World News
10. NDTV 24X7
11. NDTV Profit
12. HBO
13. Cine Max
14. 9XM
15. National Geographic Channel
16. Fox History & Entertainment Channel
17. The MGM Channel
18. Aajtak
19. Headlines Today
20. ESPN
21. Star Sports
22. Star Cricket
23. Neo Sports
24. Neo Cricket
25. Music India
26. Sangeet Bhojpuri
27. Sangeet Bangla
28. BBC Nepali Sewa (Audio)
29. Imagine Showbiz
30. Muhuaa TV- Bangla
31. Muhuaa TV-Bhojpuri
32. BBC Entertainment
33. C Beebies
34. Zoom
35. Divya
36. Imagine TV
37. Lumiere Movies
38. Pragya
39. Star News
40. Star Ananda
41. Star Majha
42. Star Plus
43. Star One
44. Star Gold
45. Star Utsav
46. Star World
47. Star Movies
48. Channel (V)
49. Disney
50. Disney XD
51. Colors
52. Sony
53. MAX
54. SAB
55. Musical Channel
56. UTV Movies
57. UTV Bindass
58. UTV World Movies
59. Bloomberg UTV
60. Nick
61. VH1
62. MTV
63. Channel News Asia
64. Nat Geo Wild
65. Nat Geo Adventure
66. Nat Geo Music
67. National Geographic HD
68. FX
69. Fox Crime
70. Baby TV
71. Zee Trendz
72. Zee TV
73. Zee Cinema
74. Zee Sports
75. Zee News
76. Zee Cafe
77. Zee Studio
78. CNN
79. Cartoon Network
80. Warner Brothers (WB)
81. Pogo