8th Nepal International Trade Fair in Kathmandu from March 28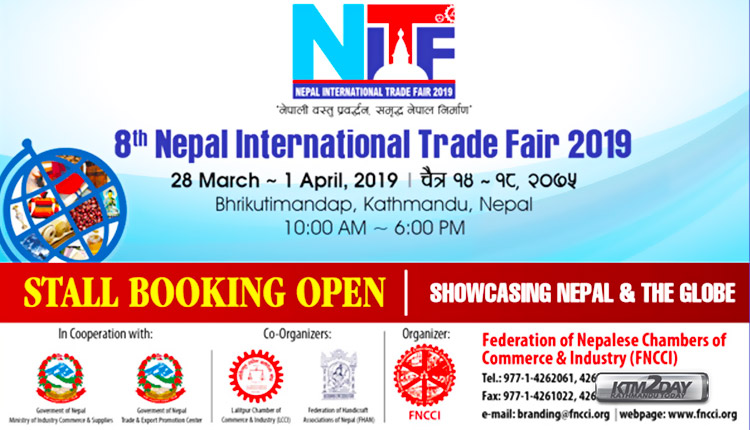 The Federation of Nepalese Chambers of Commerce and Industry (FNCCI) is organizing Nepal International Trade Fair in Kathmandu from March 28.
The four-day international travel fail will be held at the Bhrikuti Mandap Exhibition Hall in Kathmandu.
Organizing a press conference on Sunday, the representative body of the Nepali private sector that stalls registration process is ongoing, and that 195 stalls have been booked so far.
While 80 stalls have been booked by Chinese business people, traders and manufacturers of Bangladesh, Pakistan and India are taking 40, 15 and 10 stalls, respectively, according to FNCCI officials.
Speaking at the press meet, Bhawani Rana, president of FNCCI, said that the event has already become an important platform for Nepali companies to showcase their product and services.
"We are hopeful that the event will give some traction to the Nepal Investment Summit that the government is preparing to organize," Rana said.
According to the organizers, there will be altogether 400 stalls. Last year, the event had only 340 stalls.
The organizer is expecting participation from traders from SAARC nations as well as China, Thailand, South Korea and Japan, among others.
Kishor Kumar Pradhan, vice president of FNCCI, said that the event was becoming a platform promote the country's economic diplomacy. "Events like these helps foreign businesspeople to know about business doing environment of the country," he added.
Similarly, Dil Sundar Shrestha, president of the organizing committee, said the FNCCI was expecting 100,000 participants during the four-day event.
The FNCCI plans to organize 30 to 40 similar of provincial and local levels to promote economic activities across the country.