Acer Swift 3 2020 launched with Intel 10th Gen CPU in Nepali market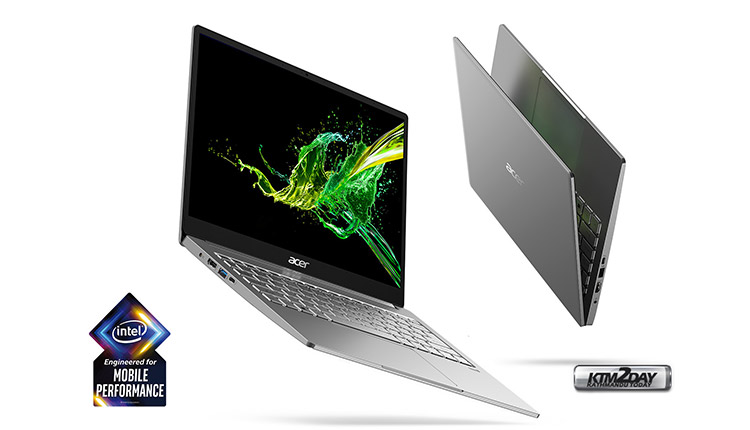 Acer first showcased the new Swift 3 family of laptops at the Consumer Electronics Show 2020 (CES 2020) in Las Vegas (Nevada, USA) .
The laptops have now arrived in the Nepali market. The laptops have a mid-range hardware specs with price ranging from NRs 90K -125 K.
The Swift 3 series launched in Nepali market comes in several configuration featuring 14 inch Full HD Display, choice of 4GB or 8 GB DDR4 RAM, 256 GB SSD drive or 1TB HDD, Intel Graphics or Nvidia Graphics card and a choice of Intel 8th Gen and 10 th Gen CPUs. These laptops comes with Linux OS as primary operating system.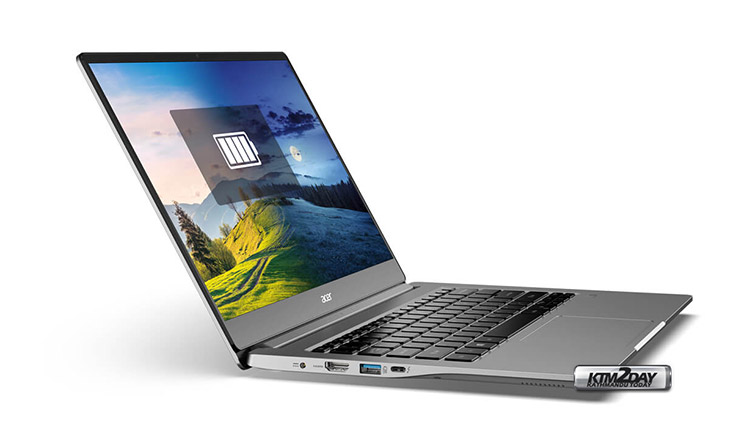 The Swift 3 2020 Series are ultra-portable notebooks in a thin, sleek metal case designed specifically for users on the go. New items feature superior performance and amazing graphics.
At IFA 2019, Acer announced that it has updated Swift 3 hardware (Models SF314-57 and SF314-57G) with 10th generation Intel processors. The models have a 14-inch Full HD screen, weighing only 1.19 kg and a thickness of 15.95 mm. Inside, the laptops are equipped with a 10th-generation Intel Core i7-1065G7 processor with Intel Iris Plus graphics and an optional discrete NVIDIA GeForce MX250 GPU. The notebook also includes PCIe Gen 3×4 SSD storage of up to 512 GB and 16 GB RAM. It's battery promises up to 12.5 hours of life, according to the manufacturer, with fast charging feature: 30 minutes in the charger should be enough for four hours of battery life.
Acer Swift 3 2019 Models Price in Nepal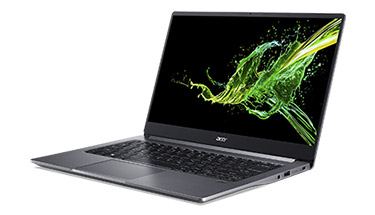 Acer Swift 3 (SF314-57-56QV)
CPU: 10th Gen Intel Core i5-1035G1
GPU: Inbuilt Intel UHD Graphics
DISPLAY: 14.0 inch , Full HD (1920 x 1080), IPS
STORAGE: 256 GB SSD
RAM: 4GB – LPDDR4 RAM
BATTERY : 4200 Mah Cell Upto 8 hours
WEIGHT: 1.18 kg (2.6 lbs)
OS : Linux OS
Price : Rs 88,000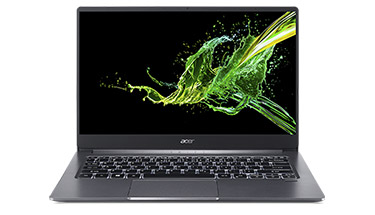 Acer Swift 3 (SF314-57G-53QQ)
CPU: 10th Gen Intel Core i5-1035G1
GPU: NVIDIA GeForce MX350, 2 GB GDDR6
DISPLAY: 14.0 inch , Full HD (1920 x 1080), IPS
STORAGE: 256 GB SSD
RAM: 4GB – LPDDR4 RAM
BATTERY : 4200 Mah Cell Upto 8 hours
WEIGHT: 1.19 kg (2.6 lbs)
OS : Linux OS
Price : Rs 95,000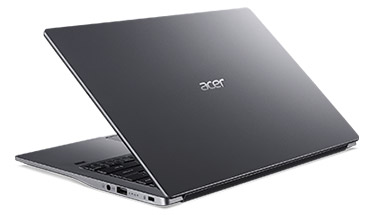 Acer Swift 3 (SF314-57G-560R)
CPU: 10th Gen Intel Core i5-1035G1
GPU: NVIDIA GeForce MX350, 2 GB GDDR6
DISPLAY: 14.0 inch , Full HD (1920 x 1080), IPS
STORAGE: 512 GB SSD
RAM: 4GB  – LPDDR4 RAM
BATTERY : 4200 Mah Cell Upto 8 hours
WEIGHT: 1.19 kg (2.6 lbs)
OS : Linux OS
Price : Rs 99,000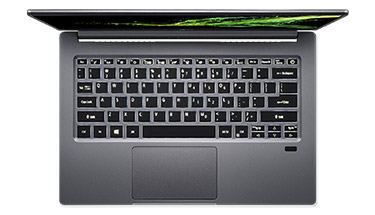 Acer Swift 3 (SF314-57G-57ZV)
CPU: 10th Gen Intel Core i5-1035G1
GPU: NVIDIA GeForce MX350, 2 GB GDDR6
DISPLAY: 14.0 inch , Full HD (1920 x 1080), IPS
STORAGE: 256 GB SSD
RAM: 8GB – LPDDR4 RAM
BATTERY : 4200 Mah Cell Upto 8 hours
WEIGHT: 1.19 kg (2.6 lbs)
OS : Linux OS
Price : Rs 104,000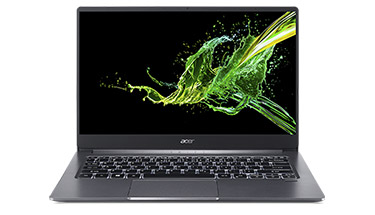 Acer Swift 3 (SF314-57G-74RA)
CPU: 10th Gen Intel Core i5-1065G7
GPU: NVIDIA GeForce MX350, 2 GB GDDR6
DISPLAY: 14.0 inch , Full HD (1920 x 1080), IPS
STORAGE: 256 GB SSD
RAM: 8GB – LPDDR4 RAM
BATTERY : 4200 Mah Cell Upto 8 hours
WEIGHT: 1.18 kg (2.6 lbs)
OS : Linux OS
Price : Rs 125,000