AirAsia suspends all flights to KTM from Saturday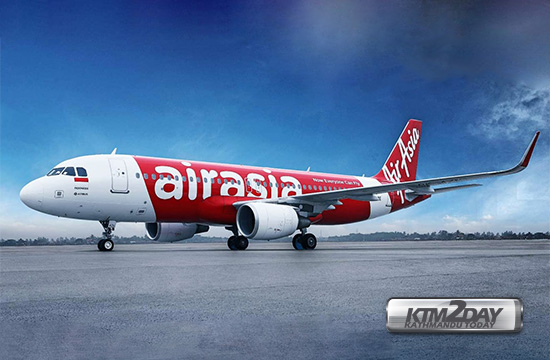 Malaysian airline company, AirAsia, is suspending all its flights to Kathmandu from Saturday.
As announced earlier, the low-cost airline company, which had been flying to Kathmandu since last six years, is suspending its flights to Nepal citing lack of adequate number of passengers.
A few months ago, the airline company had written to the Tribhuvan International Airport (TIA) authority informing of its decision to suspend regular flights to Kathmandu from tomorrow (October 13).
Also read – Buddha Air possibly in talks with Embraer to acquire E190-E2 aircraft
AirAsia's decision to suspend regular flights to Kathmandu is basically backed by two reasons — the ongoing controversy regarding the delay in payment of airport service charge to the government and recent fall in flow of passengers to and from Kathmandu, according to officials of Civil Aviation Authority of Nepal (CAAN).
"Sooner or later, AirAsia had to face action for repeatedly delaying the pending payment of airport service," said Trilochan Paudel, information officer at CAAN, adding that AirAsia will not conduct its regular flight to Kathmandu from Saturday onwards.
Besides the controversy related to pending dues of AirAsia to the government, the halt in outflow of Nepali migrant workers to Malaysia since last few months had also nudged the Malaysian airline company to suspend its flight to Kathmandu, according to TIA officials.
AirAsia had been conducting four flights a week to Kathmandu on an average utilising its Airbus 330 aircraft, with 274 seat capacity.
Of almost Rs 350 million in pending dues, AirAsia has paid around Rs 220 million to the TIA authority so far. But it had been delaying to release the remaining payments.
TIA officials informed that the airline company has paid all its principal dues to TIA, but it is yet to pay interest and other charges on the principal amount.
"The airline company had also repeatedly deceived TIA regarding payment by issuing cheques that bounced and had also ignored TIA's repeated directions to release the outstanding payment. Moreover, the company showed no interest to clear its dues despite repeated warnings from TIA that it would blacklist the airline if it failed to pay the airport service charge," said one TIA official seeking anonymity.
Though AirAsia is suspending its flight from Saturday, TIA officials informed that the Malaysian airline company has mentioned of its plans to suspend its flight to Kathmandu for only one year and could resume its flights to Kathmandu any time in the future depending on the flow of passengers.
Meanwhile, the TIA authority is in no mood to allow the Malaysian airline company to resume its flights to Nepal unless it clears all its pending dues.
CAAN urged to settle dues with IGC
AirAsia has urged Civil Aviation Authority of Nepal (CAAN) to settle the matter related to outstanding dues with its former local partner in the country.Issuing a press statement recently, the airline company has stated that 'the long outstanding payments to CAAN were not made by AirAsia's former local partner in Nepal — Incentive Group of Companies (IGC)'.
"AirAsia supports any action that CAAN takes to resolve the matter directly with IGC," Ashman Mahdudz, group communication, AirAsia, has said in the statement.Further, the airline company has claimed it is 'current on all payments to CAAN in respect to its operations into Tribhuvan International Airport'.
Refuting earlier reports that the airline had been given an October 5 deadline to clear all pending dues, the statement says AirAsia has 'not received any correspondence' on the matter but that it is 'cooperating fully and ongoing dialogue with CAAN and TIA continues in good faith'.