Ryzen 4000G Pro Desktop APUs with Integrated Vega Graphics launched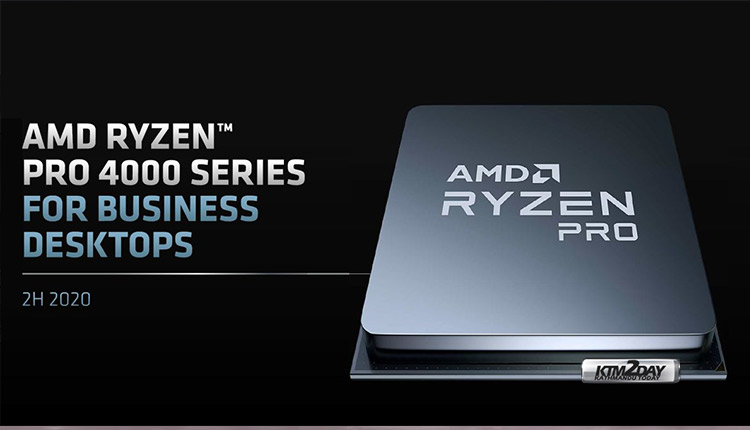 AMD announced today the next generation of Ryzen Desktop APUs as expected – the Ryzen 4000G and Ryzen 4000G Pro.
Based on the Zen 2 architecture, these APUs are equipped with integrated Vega GPUs and are designed to fit into socket AM4 motherboards.
As expected, they are intended for the OEM segment and will not be available in retail stores, but in the future AMD promises to release some models of new APUs for the DIY market (with boards based on AMD 400 and 500 series chipsets).
The new processors use the same 8-core Zen2 plus 8 compute unit Vega that we saw in Ryzen Mobile 4000 at the beginning of the year, but as with previous APU launches, the frequency and power thermals have been pushed up into more manageable desktop environments. To that end, AMD will be launching hardware in the Ryzen 7, Ryzen 5, and Ryzen 3 product lines at both 65 W and 35 W, all on the AM4 platform.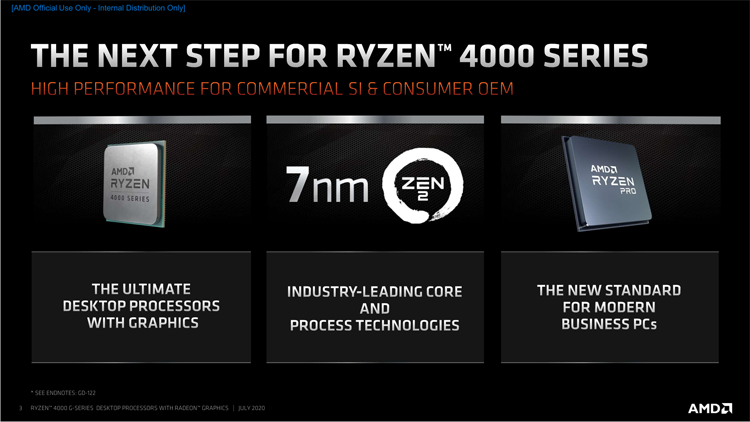 Ryzen desktop APUs officially support DDR4-3200 RAM (while AMD used faster DDR4-3600 memory in performance tests), the x86 core frequency reaches 4.4 GHz in the case of the flagship Ryzen 7 4700G, and the integrated GPU runs at 1700- 2100 MHz depending on the model. The technical characteristics of all 7nm AMD Ryzen 4000G (E) series processors can be found in the table.
CPU

Cores /




threads

Base – Turbo
Frequencies, GHz

L3 cache,




MB

TDP, Watt

GPU
CUs

IGPU frequency,




GHz

Ryzen 7 4700G

8/16

3.6-4.4

8

65

8

2100

Ryzen 7 4700GE

8/16

3.1-4.3

8

35

8

2000

Ryzen 5 4600G

6/12

3.7-4.2

8

65

7

1900

Ryzen 5 4600GE

6/12

3.3-4.2

8

35

7

1900

Ryzen 3 4300G

4/8

3.8-4.0

4

65

6

1700

Ryzen 3 4300GE

4/8

3.5-4.0

4

35

6

1700
As you can see, the series includes six models – three with a TDP of 65 W, three with a TDP of 35 W. The former will fit into full-sized computers, while the latter are suitable for use in mini-PCs (and even with passive cooling).
A distinctive feature of the Ryzen 4000G Pro in comparison with the usual Ryzen 4000G is the support of the so-called "Pro features" such as technologies demanded by business users. Among them are TrustZone, Transparent Secure Memory Encryption (TSME), Secure Boot, TPM 2.0.
AMD did not reveal the price of it's new processors, but the price of at least two – Ryzen 5 Pro 4650G and Ryzen 7 Pro 4750G – is already known . So, the cost of Ryzen 5 Pro 4650G is $ 230 and the Ryzen 7 Pro 4750G is $ 345.