Antutu Top 10 best performing Smartphones for May 2020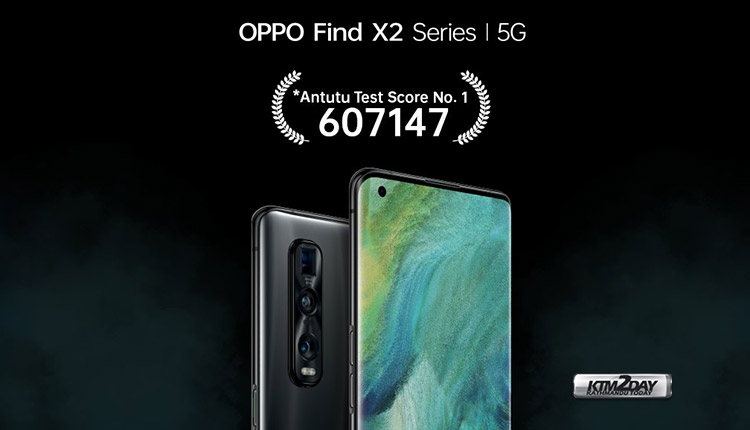 The AnTuTu benchmark is one of the ways that users can know the quality of their smartphone in a quantitative way. The application, which was removed from the Google Play Store without much explanation, remains to be  the favorite application of many when it comes to assess the performance level of the smartphone.
So, today we have the list of the most powerful smartphones for the month of May. The smartphones in the list managed to get in the top 10 List of Antutu Benchmark and their respective overall scores are also listed below.
AnTuTu's 10 best performing Android smartphones
| | |
| --- | --- |
| Brand and model | Overall Scores |
| OPPO Find X2 Pro | 604,123 |
| OPPO Find X2 | 600,884 |
| Xiaomi Mi 10 Pro | 600,264 |
| OPPO Ace 2 | 598,547 |
| iQOO Neo 3 | 597,528 |
| Xiaomi Redmi K30 Pro | 594,188 |
| iQOO 3 | 587,995 |
| Realme X50 Pro | 586,296 |
| OnePlus 8 Pro | 584,598 |
| Vivo NEX 3S 5G | 582,971 |
This is a list that tells us a lot. First, all smartphones shown in the list are from Chinese manufacturers. Samsung is not on the list, neither is LG, Sony or any other manufacturer.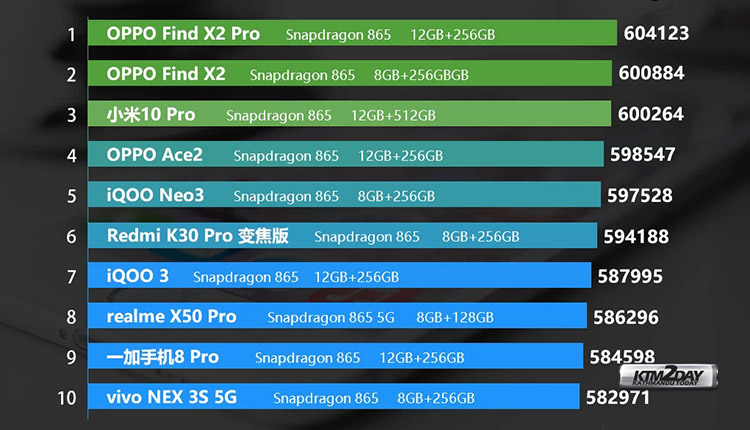 With regard to the most relevant manufacturers, BBK Eletronics is in the top position. Most of the smartphones that managed to get in this Top 10 List are from brands like Oppo, Vivo, iQoo, Oneplus and Realme which are all subsidiaries of BBK Electronics. The company managed to grab 8 spots on this list.
Xiaomi managed to get two of it's devices in this list with Xiaomi Mi 10 Pro and Redmi K30 Pro.
The entire list of Top 10 smartphones is dominated by a flagship Snapdragon 865  processor with at least 8 GB to 12 GB RAM and 256 GB of internal storage.
Never evaluate a smartphone by its benchmark score
It is worth mentioning a famous quote "True measure of a man is not how he behaves in moments of comfort…", similarly a smartphone cannot be evaluated just by its score.
Something that the benchmark does not tell us is its User Interface quality. Benchmarks represent the sheer power a processor has when it is used to its maximum capacity . It doesn't guarantee the best performance. It's not the Benchmarks but the real day to day use that tells about how worthy a smartphone is.