Apple's cheapest 9th generation iPad brings Apple A13 Bionic processor and better front camera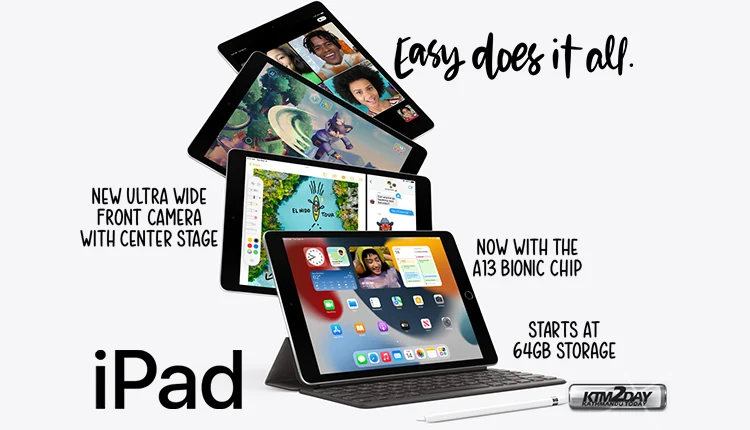 Apple has just announced the newest generation of its input tablet: the iPad 9 comes with the A13 Bionic processor – even the iPhone 11 – plus a 12-megapixel front camera with Center Stage support to accompany you during video calls.
What's new in the new 9th generation iPad?
The device arrives with changes in the specifications area, but not in the design. It is true that they are minor updates, but they ratify the position of this model of the iPad in the entry level. As with the previous version, it has been designed for students; or for those who intend to make their entry into the catalog of the apple without spending too much money.
Also Check :
Apple iPhone 13 and iPhone 13 mini
Apple iPhone 13 Pro and iPhone 13 Pro Max
One of the first points to note is the inclusion of an A13 Bionic chip. According to Apple, the new iPad processor provides a 20% performance improvement, compared to its predecessor.
The company stated that the A13 Bionic processor is a differentiator because it makes the 9th generation iPad 3x faster than the best-selling Chromebook, and 6x faster than the most popular Android tablet. The company did the tests using Chromebooks with Intel Celeron N4000 and Chrome OS 92; and Android tablets with Qualcomm Snapdragon 429 and Android 11.
The front camera jumps from 1.2 MP to 12 MP and gains the Center Stage feature that debuted on iPad Pro: this means you're always centered on video calls in FaceTime, Zoom, and WebEx; plus video apps like DoubleTake and TikTok. The lens brings a 122-degree viewing angle, allowing you to capture more of the scene. In turn, the rear camera keeps the 8 MP from the iPad 8.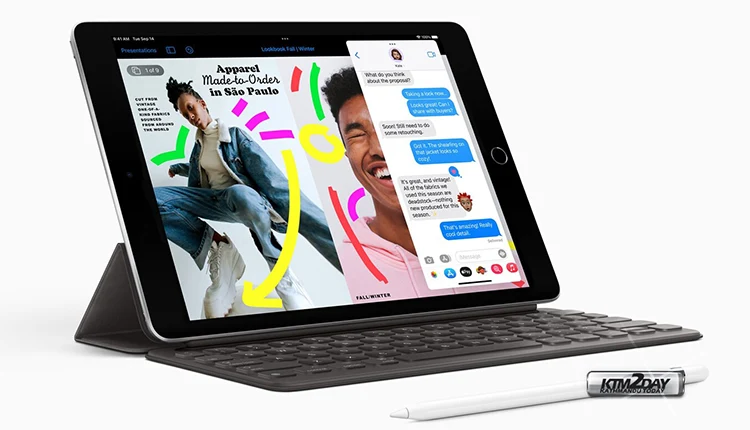 The new iPad 2021 comes with IPS screen of 10.2 inches, just like in the previous generation, and maintains the resolution of 2160 x 1620 pixels, but now relies on TrueTone to adjust the colors of the display based on external lighting. Below it, we have the Home button with Touch ID – no Face ID here.
According to Apple, the design of the iPad has not been updated for a good reason: the tablet maintains compatibility with existing accessories, whether from the company itself or from third parties like Logitech.
With iPad 9, you'll be restricted to the 1st generation Apple Pencil, which requires recharging via lightning port and doesn't magnetically stick on the side.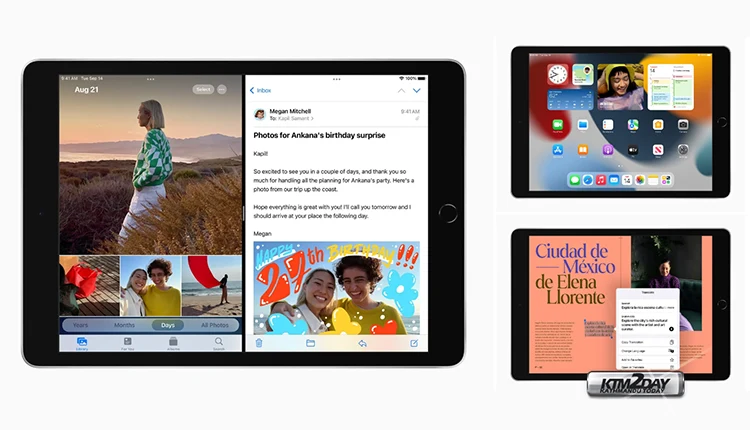 In regard to storage, meanwhile, the ninth generation of the iPad arrives with 64 GB of space; that is, twice as much as the previous version. A variant with 256 GB of storage will also be available, as confirmed by the Cupertino firm.
The best of iOS 15, also on iPad
In the software section, and as expected, the new iPad will arrive with iOS 15. In this way, users will be able to get more out of multitasking and features such as Split View or Slide Over.
As we saw during the launch of Apple's new mobile operating system, features such as intelligent text detection in images (Live Text) will also be available on the ninth-generation iPad.
Apple iPad 9th generation – Specifications :
Screen: 10.2 inch sIPS LCD, 2160 x 1620 pixels, 264 ppi, TrueTone, 500 nits brightness, compatible with 1st generation Apple Pencil
Processor: Apple A13 Bionic
Storage: 64 GB or 256 GB
Rear camera: 8 megapixels, f/2.4
Front camera: 12 megapixels, f/2.4, 122 degrees, Center Stage support
Battery: 32.4 Wh
Operating system: iPadOS 15 at launch
Connectivity: Wi-Fi (802.11a/b/g/n/ac) dual band (2.4 GHz and 5 GHz), Bluetooth 4.2, 4G on selected models (nanoSIM and eSIM)
Sensors: Touch ID, compass, accelerometer, gyroscope, barometer, ambient light, iBeacon, GPS/GNSS (Wi-Fi + Cellular model only)
Dimensions: 250.6 x 174.1 x 7.5 mm, 490 g (Wi-Fi), 495 g (Wi-Fi + Cellular)
Price and availability
The new entry-level iPad will be available for pre-order from today and will be available starting next week, with a price starting at $329. It will be launched in two colors: silver and space gray.
iPad 2021 WiFi with 64GB: USD 329
iPad 2021 WiFi with 256GB: USD 479
iPad 2021 WiFi + Cellular with 64GB: USD 459
iPad 2021 WiFi + Cellular with 256GB: USD 609