Apple launches new 11 inch and 12.9-inch iPad Pros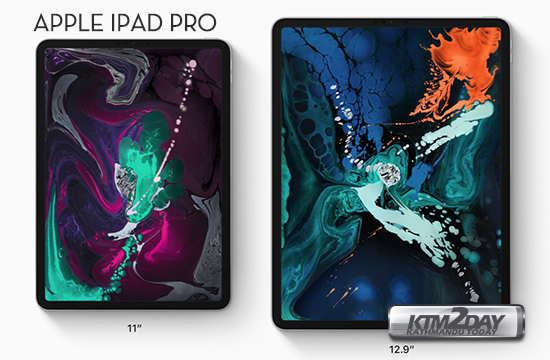 Apple announced two new iPads during a press event in Brooklyn on Tuesday, including a new 11-inch iPad Pro and a 12.9-inch model. They're both completely redesigned and no longer have Home buttons.
At a New York City event, the iPhone maker unveiled a redesigned version of its $800 iPad Pro for businesses and creative professionals, as well as a refreshed $1,200 MacBook Air targeting entry-level laptop buyers.
Also Read — Apple breathes new life in the MacBook Air 2018
The new iPad Pro, the biggest overhaul of Apple's tablet in years, takes design cues from the latest iPhones. The home button — present since co-founder Steve Jobs first introduced iPad in 2010 — has been replaced with a swipe-up gesture. Instead of a fingerprint reader, the iPad Pro now unlocks with FaceID, Apple's facial-recognition technology, adapted for the iPad to work in both vertical and horizontal orientations.
With the home button out of the way, Apple filled the front margins of the iPad with more functional screen. With smaller edges, the iPad comes in versions with 11 inch ($800) and 12.9 inch ($1,000) screen models, measured on the diagonal — the larger of which is about the size of an 8.5 by 11 sheet of paper.
Apple generates plenty of interest (and sales) anytime it changes the design of one of its products. iPads now outsell Mac computers, though the overall tablet market is shrinking. The iPad's advantage is that it packs a slender form with a big touch screen, not available on any Macs.
The new iPad Pro, sold for more than double the price of a basic $330 9.7-inch iPad, is capable of much more than just watching TV in bed and playing games. On stage, Apple described the iPad Pro as a "magical piece of glass that can be anything you need it to be."
The iPad Pro a powerful, flexible computer that you can carry around. With a new processor and neural engine, Apple says it is faster than 92 percent of portable PCs. A new version of the Apple Pencil stylus connects magnetically to the side of the iPad Pro and also charges through contact.
Apple said the iPad Pro could even plug into an external monitor (via a new USB-C style port) to become a portable graphics workhorse. Executives on stage from Adobe showed how it could be used to edit a giant image with a new full-powered version of its popular Photoshop application, arriving next year. (To underscore the usefulness of the iPad for professional creatives, Apple held its launch event at the Brooklyn Academy of Music.)
Even as Apple touted the iPad as the future of computing, it also offered up a clamshell laptop that customers have been waiting for years to see updated.