Audi Q8 e-tron electric SUV unveiled with a range of 600 km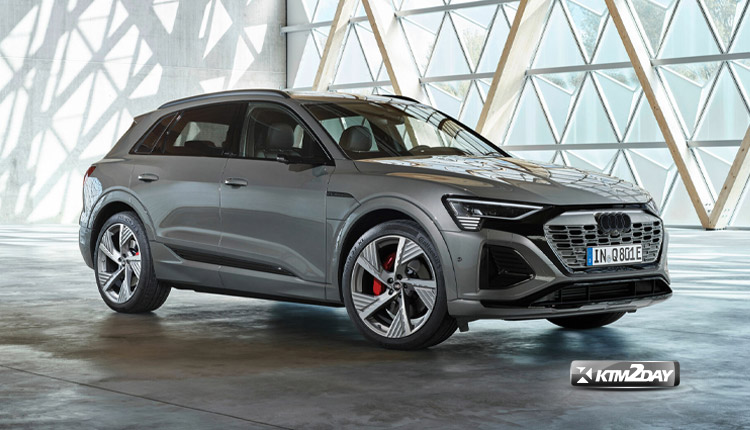 An all-new premium electric SUV from Audi has been launched, boasting a range of 372 miles (600 kilometers).
Since its debut in 2018, Audi has introduced seven other e-tron models, the latest of which is the Q8 e-tron. By 2026, the company anticipates launching as many as 12 new e-tron variants.
For a while now, reports and rumors have circulated about an upcoming electric vehicle called the Audi Q8 e-tron.
It'll be on sale in the spring of 2019, and it's a crossover SUV. The Q8 e-tron may be had in both regular and Sportback body styles.
Both the Q8 and the SQ8 will be available with three different all-wheel-drive engine options.
Q8 50 models provide 250kW of power and 490Nm of torque. With a range of 306 miles for the SUV and 313 miles for the Sportback, it can accelerate from 0-60 mph in 6 seconds.
In either configuration, the Q8 55 produces 300 kW of power and 490 Nm of torque. Both have ranges of 361 miles and 372 miles, respectively. The maximum power and torque output of the SQ8 e-tron are 370kW and 717Nm, respectively.
SUVs have a range of 307 miles, whereas Sportbacks have a range of 319 miles. It can reach 60 mph from a standstill in 5.6 seconds and has a top speed of 130 mph.
The Q8 50 models' net-89kWh battery packs are compatible with 150kW charging, while the Q8 55's larger batteries can reach up to 170kW.
Using information received by its radar sensors, five optical cameras, and dozen ultrasonic pickups, it provides up to 45 driver-assist features. Audi added ADB compatibility to its Matrix LED headlights, which come standard.
In 2023, prospective buyers can place orders for the Q8 for a starting price of about $72,500. Launching in Germany and other major European markets is Audi's initial goal for February 2023.
Audi Q8 E-tron : Models/Specs
Q8 E-tron 50
Driveline: Dual electric motors, one per axle
Maximum output: 250 kW / 340 horsepower
Acceleration 0-100 km/h: 6 seconds
Battery capacity: 89 kWh (net)
Fast charging capacity: 150 kW
Range: 500 km
Official consumption: 2.01-2.4 kWh/mile
Q8 E-tron 55
Driveline: Dual electric motors, one per axle
Maximum output: 300 kW / 408 horsepower
Acceleration 0-100 km/h: 5.6 seconds
Battery capacity: 104 kWh (net)
Fast charging capacity: 170 kW
Range: 600 km
Official consumption: 2.06-2.44 kWh/mile
SQ8 E-tron
Driveline: Triple electric motors, one in front two on the rear axle
Maximum output: 370 kW / 503 horsepower
Acceleration 0-100 km/h: 4.5 seconds
Battery capacity: 105 kWh (net)
Fast charging capacity: 170 kW
Range: 500 km
Official consumption: 2.46-2.8 kWh/mile