Bajaj unveils small car RE60, promises 35 km per litre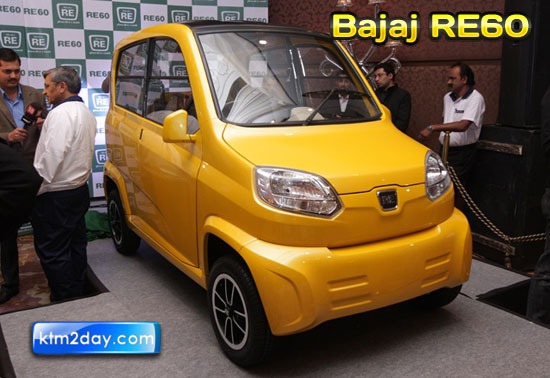 Bajaj Auto on Tuesday unveiled a mini four wheeler for intra-city urban transportation targetting three wheeler customers.
The company, which had in 2008 showcased a concept small car but decided not to go ahead with the project, will launch the new product named RE60 later this year.
"Certainly, this is a product, the core customer for which are those who use a three wheeler," Bajaj Auto Ltd (BAL) Managing Director Rajiv Bajaj told reporters here.
He said the RE60, powered by a 200 cc rear mounted petrol engine could also be sold in overseas markets where BAL's three wheelers are exported.
Bajaj said the company had spent nearly four years in developing the product that has a top speed of 70 kmph with a highest mileage of 35kmpl.
"This vehicle has been designed for intra-city passenger transport keeping in mind intra-city duty cycles and safety requirements," he added.
Commenting on the potential of the vehicle, he said the company expects a big growth opportunity by targeting the three wheeler segment.
Bajaj, however, did not share sales targets for the new product but said opportunities are not only in the domestic market but overseas as well.
"We make about 5,20,000 three-wheelers a year of which only 2,00,000 are sold in India and rest exported. So we see markets like Sri Lanka, which could be the first export market has huge potential for RE60," he said.
Asked about the association with Renault-Nissan alliance, Bajaj said: "They have not seen the product yet and will be seeing it at the Auto-Expo. Once they see it, we will decide the way forward."
As per an agreement with the Renault-Nissan alliance, BAL was supposed to develop and manufacture the vehicle and sold under the badge of the alliance.
In January, 2008 BAL had unveiled its concept passenger car with an expected price of USD 3000. It had partnered Renault-Nissan for the ultra low cost (ULC) car project.
The ULC was first scheduled to hit the roads in India in 2011, but was delayed due to differences between the partners on pricing and design.
While Renault-Nissan wanted to price the car at around $2,500, Bajaj insisted on lowering the overall cost of ownership.
In 2010, Renault-Nissan announced the signing of a memorandum of understanding with Bajaj Auto to take forward their ULC car project. (Source: Times of India)