Bajaj V15 launched in Nepal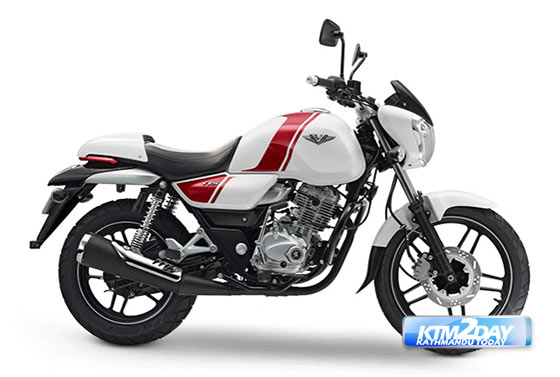 Hansraj Hulaschand and Company has launched Bajaj V15 motorcycle in the Nepali market. The new Bajaj two-wheeler was launched amid a program held in the Hyatt Regency Hotel on July 10.
"Unmanaged traffic, ruthless zippers for public vehicle drivers, unpredictable weather and potholed roads have made the roads a warzone," said Shekhar Golchha, Managing Director of Hansraj Hulaschand and Company, the authorised distributor of Bajaj two-wheelers for Nepal.  "We launched the bike keeping in mind these factors," he added.
Powered by DTS-I 150 CC engine, Bajaj V15 has single and double seats, balancing and cushioning for smooth ride balance. According to the company, V15 has been tuned to develop 25 percent higher torque.
The bike delivers 12bhp at 7500rpm and peak torque of 13Nm at 5500rpm.
Similarly, the bike has Telescopic Front, Hydraulic rear Suspensions, tubeless tyres, disc brake and 13 liters capacity fuel tank.
V15 is priced at Rs 204,900 and is available in pearl white and ebony black colors.