BB Airways seeks permit to scrap its Boeing 757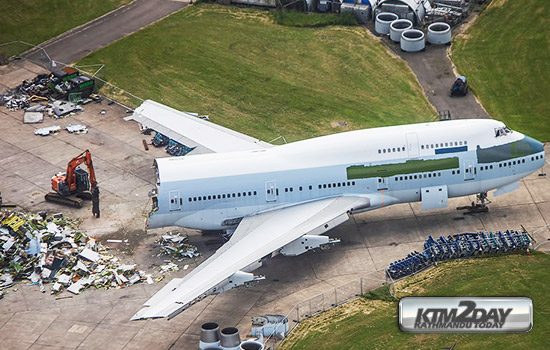 BB Airways has sought permission from the Civil Aviation Authority of Nepal (Caan) to scrap its vintage Boeing 757 as it has not been able to obtain an air operator's certificate (AOC) to begin commercial service.
The non-operational Nepali private carrier bought the 30-year-old jet from Nepal Airlines Corporation (NAC) last year, but the ownership has not been transferred for lack of the AOC. The plane is currently sitting at Tribhuvan International Airport (TIA), and the parking and insurance fees have been piling up. Rajan Pokhrel, deputy director general of Caan, said that BB Airways had formally applied for permission to dismantle the plane. "We are not sure whether the purpose is to sell the aircraft's parts or something else," he said. Nepali law doesn't allow the title to be transferred to a company that doesn't have an AOC, he added.
The airline possesses a flying licence from the Civil Aviation Ministry. "However, BB Airways can become the owner of the aircraft only after it is deregistered," said Pokhrel. As the plane is still in NAC's name, the national flag carrier has to apply to deregister the plane. "Then only can the title be transferred to BB Airways."
The Boeing 757, named Karnali with the registration 9N-ACA, was sold to Bhawan Bhatta, managing director of BB Airways, for $1.46 million in December 2017. The carrier, promoted by Bhatta, who is the current president of the Non-Resident Nepali Association (NRNA), launched services to Kuala Lumpur in October 2012, but ceased operations after a few months. Aircraft owners have an ongoing burden of ownership: There are parking fees, insurance and other types of fees. According to NAC, the monthly accumulated fees could reach Rs3 million. NAC spokesperson Rabindra Shrestha said that BB Airways owed parking and insurance fees for more than a year.
In February, the carrier applied at the Tourism Ministry for an international flying licence to resume international services. Following the request, the ministry sought Caan's views. The regulator asked the government to delay issuing an operating licence to the defunct carrier until the expansion of Bhairahawa airport was completed due to congestion at TIA.
Possession of a flying licence will allow BB Airways to obtain the AOC from Caan. The aircraft can then be used for commercial purpose. Although, the ministry has renewed the carrier's flying licence, Caan said that it would issue AOCs to new operators only after Gautam Buddha International Airport, currently under construction in Bhairahawa, comes into operation. The airport is expected to be completed by 2019. The regulator had scrapped BB Airways' AOC in July 2013.
Overcrowded skies over Kathmandu and strained infrastructure on the ground has led to incoming flights being put in a holding pattern for hours, causing inconvenience to domestic and international travellers, and Caan wants to wait before allowing new airlines to start service.