Bounce Infinity E1 electric scooter launched with swappable battery service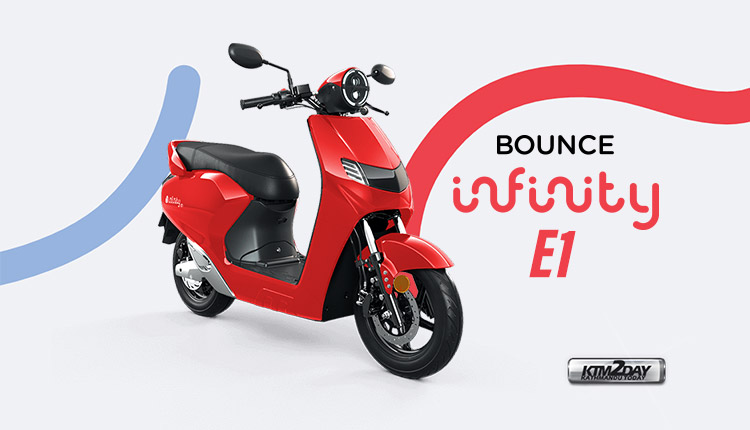 EV start-up company Bounce, with headquarters in Bengaluru has released the Infinity E1 electric scooter in India, which is the company's first electric scooter. Why does the scooter look familiar ?
Because Bounce has acquired the operations of 22Kymco, which has since gone out of business. This scooter is simply an updated version of the 22Kymco i-Flow, which was debuted in June of this year. Bounce acquired the assets of 22Kymco, which is no longer in business.
The Infinity E1 is said to have an operating range of 85 kilometers. Bookings are now open for a refundable fee of INR 499, with deliveries beginning in March 2022.
When fully charged, the Infinity E1 has a claimed range of 85 kilometers on a single charge, and it takes approximately 4-5 hours to fully charge from any standard electrical outlet.
An innovative "Battery as a service" option will be available for the Infinity E1, allowing buyers to choose between purchasing the scooter along with the battery and charger or renting the battery pack on a monthly basis. It is priced at INR 68,999 when purchased with the battery and charger, and at INR 45,099 when purchased without the battery and charger, respectively (both prices, ex-showroom, Delhi). According to the company, the pricing of its battery subscription scheme will not be disclosed at this time.
Customers who purchase the Infinity E1 without the battery pack will be able to swap out their batteries for fully charged units through a dedicated battery swapping network, according to Bounce Technologies.
According to the company, it aspires to create the world's largest and densest battery-swapping platform, with swapping facilities located every 1km on the platform's perimeter. When compared to traditional scooters, the company believes that this will result in a 40 percent reduction in operating costs for the scooter in question. This is the first electric scooter in India to include a battery swapping option, and it is called the Infinity E1.
Technical specifications for Bounce Infinity E1.
With a 2kWh lithium-ion battery pack, the Infinity E1 can travel up to 85 kilometers on one charge, according to the manufacturer. However, while the business has not specified a power rating for the electric scooter, the torque output for the E1 is 83Nm. Bounce claims that the Infinity E1 can sprint from 0 to 40 kilometers per hour in 8 seconds and reach a top speed of 65 kilometers per hour.
By attaching the battery pack to any standard electric socket, it may be recharged in around 4 to 5 hours time. Additionally, the scooter is equipped with two riding modes: Power and Eco. On the mechanical front, the Infinity E1 is based on a tubular frame and is equipped with hydraulic telescopic front suspension as well as twin shock absorbers at the rear. It also has disc brakes on both ends, as well as an Electronic Braking System (EBS), and it has regenerative braking technology as well as other features.
Design and features of the Bounce Infinity E1
In terms of design, the Infinity E1 appears to be a very traditional scooter, despite the fact that its simplicity lends it an impression of sophistication. Some of the standout features include round LED projector headlamps with clever design, flush-fitting rear foot pegs, and beautiful alloy wheels, among others. A total of five color options – Sporty Red, Sparkle Black, Pearl White, Desat Silver, and Comed Grey – will be available in either a glossy or matte finish for the Infinity E1.
The Bounce comes equipped with a digital instrument cluster, a reverse mode, cruise control, and a tow alarm, among other amenities. A unique drag mode is included, which allows the scooter to travel along at walking speed in the event of a puncture and you need to push it along.
When you purchase the Infinity E1, Bounce includes a smart app that can be connected to the scooter through Bluetooth and used for geofencing, tracking it from a distance, checking charging status, and more.