Buddha Air adds new ATR-72 aircraft, resuming Varanasi Flights soon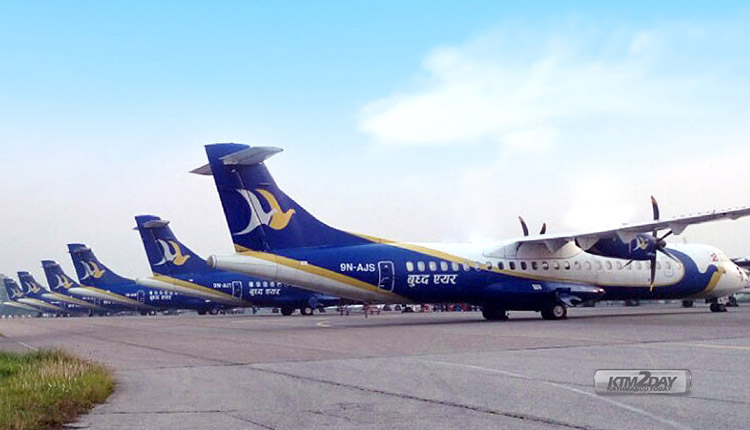 Buddha Air has added additional ATR-72 aircraft to it's fleet recently. It has been informed that the aircraft will within 2 weeks complete all the necessary paperwork which has been assigned with a  callsign 9N-ANP.
Flying a larger aircraft with 72 seats will reduce operating costs and make airfare cheaper and easier. Accordingly, Buddha Air has brought the new ATR-72 aircraft. With this, the number of Buddha Air fleet of aircrafts has expanded to a total number of 16. Accordingly, there are 11 ATR-72, 3 ATR-42 and 2 Beech aircraft now under the airlines fleet.
Buddha Air is committed to consistently provide it's services with simple fares. The 'dollar' airfare for international passengers has been reduced by 80 percent since last January. Similarly, in the case of international nationals residing in Nepal for a period of 6 months, the fare which was earlier 75 percent has also been reduced. Buddha Air has stated in a press release that the cheaper fare will help in attracting tourists. This will also be of great help to the tourism sector.
Buddha Air has also made air travel easy and simple for Nepali passengers. With cheaper fares, the number of flights has increased significantly, allowing passengers to fill their flights on time. Inland air travel has become cheaper overall. "Buddha Air has made continuous air travel accessible to all and is committed to making it more convenient," said Rupesh Joshi, Marketing Director, Buddha Air. He also said that three more aircrafts would be delivered in a few months.
Buddha Air is operating direct flights to Pokhara with various destinations in the country. Flights are being operated from Nepalgunj, Bhairahawa, Bharatpur and Simara and also from Janakpur and Dhangadhi from March 1. Similarly, there are plans to start flights from Bhadrapur to Pokhara and from Biratnagar to Bhairahawa from March 15.
International tourists are eager to come to Nepal. Buddha Air has also requested the concerned agencies to facilitate PCR testing and cumbersome forms, according to a press release.
Varanasi Flight
The Kathamandu-Varanasi route will restart on April 1, according to the country's main domestic carrier, Buddha Air.
Before the Covid-19 epidemic, this was the company's lone overseas flight, however it had to be canceled due to the outbreak.
After a hiatus of nearly two years due to a virus outbreak, the airline has chosen to resume flights.
However, the corporation has yet to release its weekly timetable.
A popular holy destination for Hindus in Nepal and India, it connects two pilgrimage sites in the neighboring nations.