Buddha Air announces inter-province flights from May 1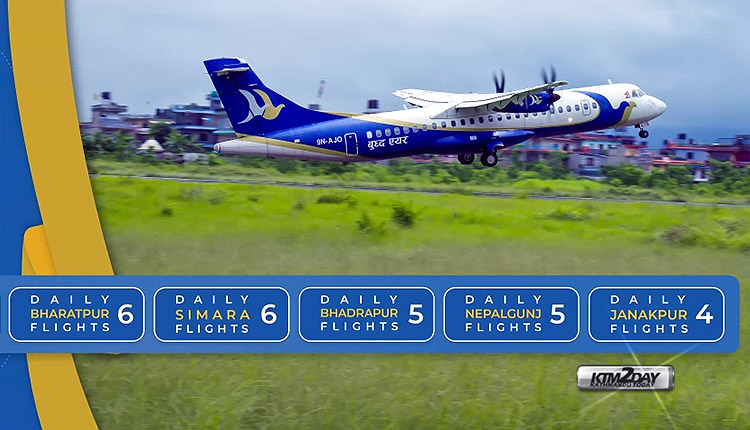 Buddha Air has announced it will operate inter-province flights from May 1.
Organising a press meet here today, the airline company announced four inter-provincial flights will be operated keeping Pokhara as the central destination.
Managing Director of Buddha Air, Birendra Bahadur Basnet, said that this step would prove to be a milestone for inter-province flights.
Addressing the press meet today, Basnet said that Buddha Air will now fly from Pokhara to Biratnagar, Pokhara to Simara, Pokhara to Nepalgunj and Bharatpur to Bhairahawa.
He informed that the airline company will operate three flights a week to the four destinations in the initial phase and plans to operate daily flights later on as if the demand increases.
As per the company, minimum airfare in Pokhara-Biratnagar route is Rs 4,500 while maximum fare will be Rs 7,200.
The minimum fare for Pokhara-Biratnagar has been fixed at Rs 6,000 while maximum fare at Rs 10,800.In Pokhara-Simara route, a minimum of Rs 4,300 and a maximum of Rs 6,700 airfare has been fixed.
The minimum fare for Bhairahawa-Bharatpur has been set at Rs 2,500 and a maximum fare of Rs 4,000, according to the company.
Amid this, Basnet said that Buddha Air is also planning to add another aircraft by May 15.
According to him, another ATR 72 aircraft will be added to the fleet. The company has already taken delivery of one aircraft in the midst of the coronavirus pandemic.
At present, the company has 14 aircraft in its fleet."During the COVID-19 pandemic, air route has been considered safe for travel.
Even the COVID-19 Crisis Management Centre has identified air route as the best mode of transport during the pandemic," he said.