CG Net starts internet service offering 120 Mbps speed at just Rs 999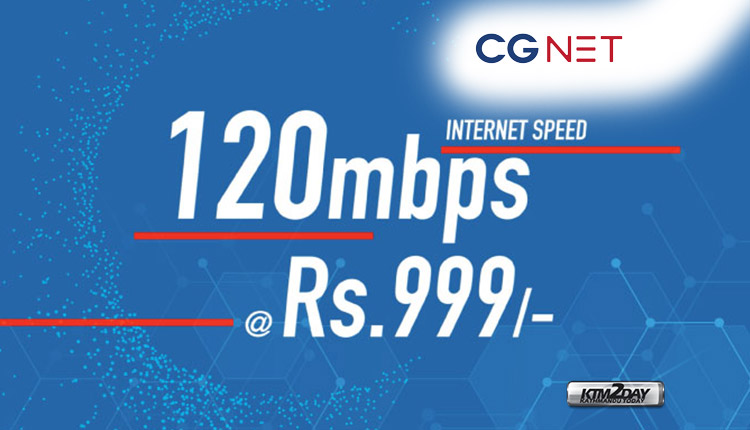 CG Net, a new venture into the internet market by Chaudhary Group has debuted in the Nepali market offering cheap internet at highest speed.
CG Communications believes that the customer-centric service has been launched to bring a whole new experience in the life of the consumer. CG Net is a nationwide Internet Service Provider (ISP) that will provide Internet services for both business and individuals.
CG Net has used the latest generation of technology available in the global market to address the growing use and demand for video, OTT platforms, work from home, online classes etc.
Initially, the company's services will be available in all three districts of the Kathmandu Valley. For now, residents of Jawalakhel, Jamsikhel, Bhanimandal and Ekantakuna will be able to avail the services of the company.
CG Net will be expanded in all areas of the Kathmandu Valley within 12 months.
The company aims to expand CG Net across the country by the end of 2078 BS. The company's customer service centers will currently be located at CG Digital's branches in Jawalakhel, Kumaripati, Kirtipur, Nayabazar, Min Bhawan and Trade Tower Thapathali.
Managing Director of CG Communications, Nirvana Chaudhary, said that the CG Net service was launched in line with its commitment to provide high quality and cheap internet to Nepali consumers. "High speed internet has become essential in daily life and the demand is also increasing," said Chaudhary. Our presence will mean a lot to take the country to the digital age. "
He said that CG Net relies on Nokia's technology to provide high-speed internet service and meet the growing market demand of the future. CG Communications is a company working in the field of information technology under Chaudhary Group.

CG has stated that it is committed to operate telecom services in Nepal based on the latest generation technology available in the world market. The company also mentioned CG Net as its first step in the field of information technology.
CG Net ::::: Internet Plans
The company will provide highest speed internet currently not provided by any other ISP at cheapest price. CG Net is currently providing internet of speed 120 Mbps at just Rs 999/month.

Chaudhary Group, which did not get permission to start 5G service in Nepal because of revoked telecom operator license by the NTA has now started internet service using FTTH technology. Apart from internet service the company is also set to launch IPTV and other popular services soon.
The company has made an initial offer of 120 Mbps for internet connection at Rs 999 for one month, Rs 2,997 for three months, Rs 5,994 for six months and Rs 11,988 for one year which attracts an additional 13% VAT.
Wire and connection will be provided free when connecting to CG Net. A refundable deposit of Rs 500 is required when connecting to the internet. The company has stated that the router will be available for free with a one-year internet connection package.
The company has mentioned that it is expensive to connect only for one month. If you use a single band router, you will have to pay Rs 2500 and if you use a dual band router, you will have to pay Rs 3500.
Customer who enroll on a 3 months plan have to pay Rs 2,000 for single band router and Rs 3,000 for dual band router.
The company has stated that those who enroll on a six months package will have to pay Rs 1,500 for single band and Rs 2,500 for using dual band.
CG Net has stated that Rs 500 refundable deposit will be required regardless of the package subscribed by the customer. The company has initially informed that it will provide internet service in Kathmandu Valley which will be expanded across Nepal in the near future.
CG Net will be expanded in all areas of the Kathmandu Valley within 12 months. The service will be available within 6 to 24 hours of requesting to connect the company's service to the homes of consumers in the mentioned areas.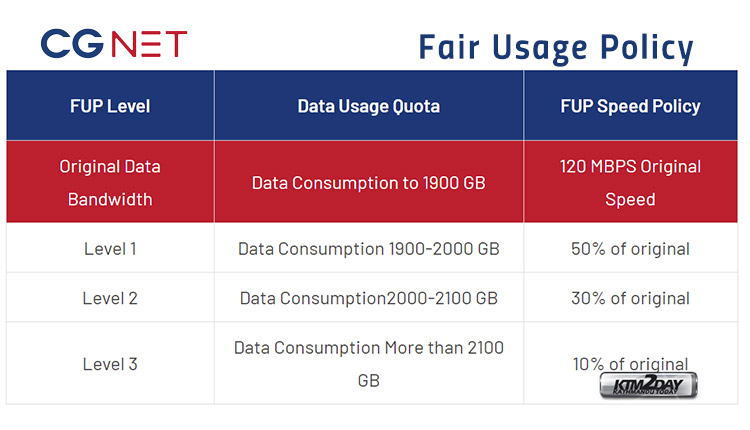 FUP with ample download quota
Like every other ISP, CG Net also has it's Fair Usage Policy set for subscriber's packages. The company has provided a huge download quota for its users on it's 120 Mbps plan.
CG Net will be providing a download quota of 1900 GB per month on this package. This download quota is almost twice as much as what other major ISPs are providing now to its customers.
CG Net has stated in it's Fair Usage Policy that there are 3 Levels set for customer's who crosses the download limit.
Under Level 1, if the customer crosses the download limit of 1900 GB in a month then the client's speed will be decreased or throttled to 50% of the original speed i.e., 60 Mbps. The Level 1 flag will be applicable to client's who download in between 1900 and 2000 GB in their monthly cycle.
Under Level 2, if the client crosses the 2000 GB mark but stays below 2100 GB then their speed will be throttled to 30% of the original speed which is equivalent to 36 Mbps .
Similarly under Level 3, if the data consumed is in excess of 2100 GB then their speed will be throttled to 10% of the original speed which is equivalent to 12 Mbps.
CG Net has mentioned that the data quota counter will reset or will turn back to normal at the end of each monthly cycle.