Coca Cola launches free 250 ml pack with 2.25 Liter offer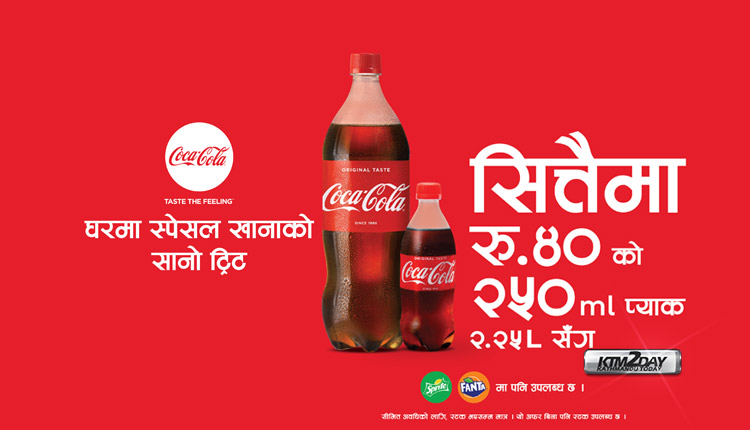 With the onset of summer, Coca-Cola has offered 250 ml in a 2.25 liter pack for free. Popular beverage brand Coca-Cola has announced a 'Little treat with Special food at home this summer' campaign.
To make the food moments at home special and unforgettable for the consumers, Coca-Cola has stated that it will give away 250 ml packs free of cost with the purchase of Coca-Cola, Sprite and Fanta in 2.25 liter pet jars in Nepal.
The promotional offer is part of the Coke & Meals campaign, which was launched earlier this year. Its main message is that even a simple meal with Coke can turn into a celebration, the statement said.
Coca-Cola is confident that consumers will enjoy Coke, Fanta and Sprite with this offer.
Coca-Cola has always been providing exciting and unforgettable experiences by bringing unique campaigns to strengthen the relationship with consumers. With this offer, Coca-Cola aims to make consumers enjoy Coke, Fanta and Sprite with food.
This offer is only available for a limited time. Stocks without this offer are also available in the market. Consumers can view promotional pack information for details of terms and conditions.