Amid Covid-19 fears and lockdown, NEPSE loses its grip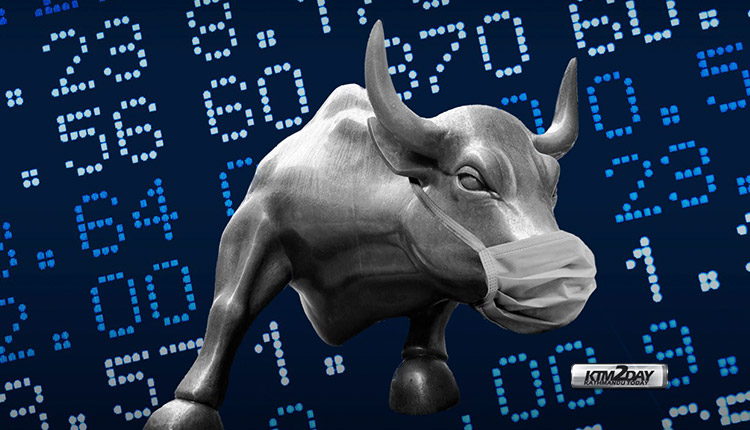 The NEPSE index, which measures stock trading in the nepali stock market, has declined by higher numbers on second consecutive day, today. On Sunday, Nepse index dropped by 65.58 points to 2,506.61.
Similarly, the Sensitive Index, which measures the trading volume of large companies, fell by 11.25 points to 452.79. A total of 1,29,111,721 shares of 220 companies were traded at a price of Rs. 6,599,928,202. After Monday's trading, the market capitalization has also declined to Rs 34.70 billion.
Shares of 13 subgroups traded lower. Banking 40.73, Trade 127.35, Hotel and Tourism 71.43, Hydropower 99.44, Finance 27.77, Non-Life Insurance 384.53, Manufacturing 95.55, Other 54.04, Microfinance 112.34, Life Insurance 359.18 and Collective investment fund decreased by 0.11 and Investment by 2.75 points.
Today, Upper Tamakoshi Hydropower Company is in the top position in terms of turnover. The company has a turnover of Rs. 317.49 million.
Similarly, Nepal Infrastructure Bank is at Rs. 25.29 million 81 thousand 740, Nepal Reinsurance Company Rs. 20.24 million 21 thousand 623, Nabil Bank Rs. 195.33 million 35 thousand 290, Nepal Life Insurance Company Rs. 177.48 million 793. Citizens Investment Fund was at the top with Rs. 169.589 million, NIC Asia Bank at Rs. 163.235 million, Prabhu Bank at Rs. 151.12 million and HIDCL at Rs. 150.51 million.
Shares of the Bishal Bazar Company(BBC) rose 9.99 percent today on a positive circuit, despite a sharp drop in Nepse. Investors who put their bet on Mahila Laghubitta Sanstha Limited earned 9.97 percent, Machhapuchhre Bank earned 5 percent, Goodwill Finance earned 3.79 percent and SBL bonds earned 3 percent.
Similarly, Reliance Finance gave 8.06, Chyangdi Hydropower 7.56, Sindhu Vikas Bank 7.27, United Idimardi Hydropower 6.67, National Hydropower 6.41, Shree Investment Finance 6.40, Nepal Hydro Developer 6.27 and Multipurpose Finance Company lost 6.19 percent.