Dawa Yangzum Sherpa becomes the brand ambassador of Rolex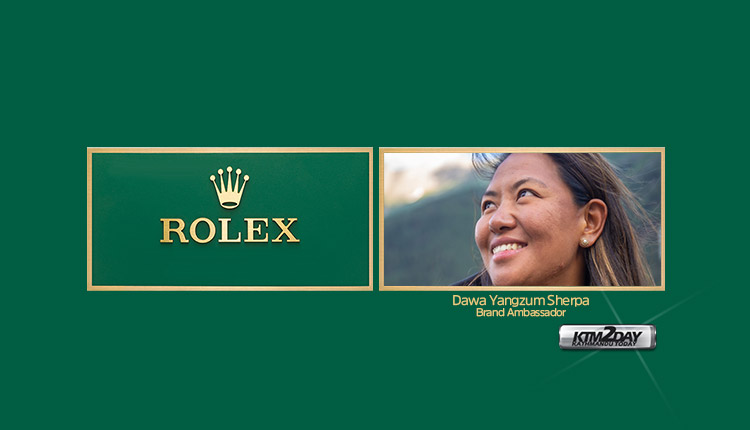 World-renowned watchmaker Rolex has appointed mountaineer Dawa Yangzum Sherpa as its brand ambassador. The British watchmaker, headquartered in Geneva, has chosen Nepali for the first time.
Sherpa, 30, from Dolakha, has been appointed Rolex's brand ambassador for three years from next January. Rolex's Swiss representative handed her the appointment letter last Friday. World-renowned celebrities want to join the Rolex brand. However, Rolex has chosen to replace Tiger Wood, Roger Federer, Michael Bubble and Sylvia Earle.
Mountaineer Sherpa is happy to receive the appointment letter as per the agreement. "Rolex is a world famous brand in itself. I have a profession of climbing mountains. Rolex has been organizing Climate Change, Environment Change Relations Project, " she said. "Climate change is a global concern, not just for us. We can work together. "
She says that the company has chosen her considering the necessary personality in the community. "I think it's a kind of support," she said.
She had met a representative of Rolex a few years ago. She wants to give the credit for this meeting to Norbu Tenzing Sherpa, the son of Everest climber Tenzing Norgay Sherpa.
Rolex has not suddenly taken up the claim for the position desired by various world-renowned professionals. She said Rolex had been studying the priorities and contributions to the country, environment and community along with its business for about two years now.
"The work I have done for brand ambassador selection has been inspected for about two years now. I found out about this a few months ago," she said. " The government of my country doesn't see the contribution one has made, but a company like Rolex understands what one has done for its country, its mountains, its women. '
Sherpa, Nepal's first female mountain guide, has climbed seven of the 14 mountains above 8,000 meters. Only those in their area have known him. She says she is proud to have been given this responsibility by Rolex.
"A new thing has been confirmed, the world is watching as we do better. You should always continue your work and duties. This is an encouragement for the new generation, 'she says.
Yangjung  Sherpa, who has been involved in mountaineering since 2008, has been working as a mountaineering guide in Nepal and the United States. She has also been working for Nepal's Seven Summits and Imagine Nepal.
"It's not just my role as Rolex's brand ambassador to climb the mountain and risk climbing. We have been working towards community, environment and women empowerment even after returning from abroad. The main objective is to continue it along with mountaineering, 'she said.
Sherpa had guided the scientists from abroad in conducting an environmental inspection at the expedition organized in collaboration with National Geographic and Rolex. She has been participating in expeditions based on the theme of climate change.
"I have been doing outdoor mentorship for the sisters from our community who want to come for mountaineering but whose economic condition is weak. I will continue that too, 'she says.
Dawa had dreamed of climbing Mt. Everest when she was 9 years old. She fulfilled her dream at the age of 21. She was certified in 2017 by the International Federation of Mountain Guides, an international organization of mountain guides. Dawa became the first Nepali woman to win this award. She won the title, beating more than 100 women from around the world.
She had been trying to get this title since 2013. Dawa was also part of the Nepali women's team at the Ketu Summit. She has also climbed Kanchenjunga mountain along with AmaDablam. She climbed Cheki in 2010 (6200 meters), Mount Everest in 2012 and K2 in 2014 as the youngest woman. In 2017, she also ascended the peak of Langdung (6357 meters) .
As soon as she becomes a brand ambassador, she will now wear Rolex's limited edition watch in mountaineering.
Rolex SA is a company founded in 1905. The company is headquartered in Geneva, Switzerland. The Rolex brand watch was unveiled in 1908. The company has been owned by Rolex Watch Co. Ltd. since 1925.
DAWA YANGZUM SHERPA – Accomplishments:

First Ascent on Mt. Cheki (6200m), 2010
Everest, 2012
Youngest female on K2, 014
First winter ascent on Mt. Langdung (6357m), 2017
IFMGA Certification, 2017