DishHome launches Fiber Internet service in KTM valley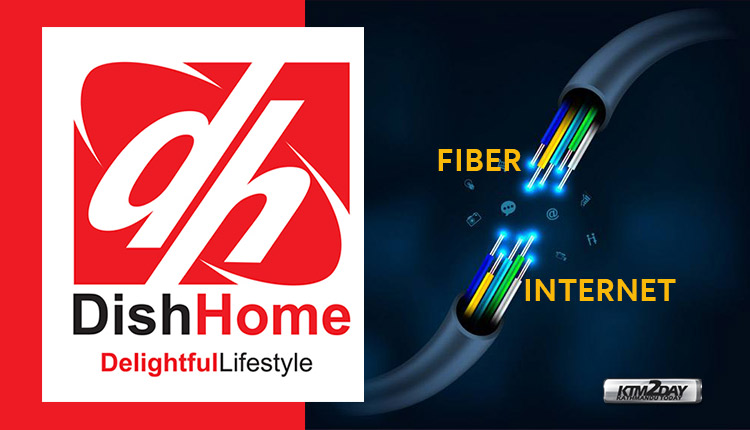 Dish Home Nepal, the only DTH service provider company in Nepal, is also preparing to provide internet service through fiber optics in Kathmandu valley. The company has launched internet service based on Fiber to the Home (FTTH) technology.
Dish Media, which got permission for internet service from the Nepal Telecommunication Authority last January, has said that it will initially start internet service only in Kathmandu region.
Fiber to the home (FTTH), also called fiber to the premises (FTTP), is the installation and use of optical fiber from a central point directly to individual buildings such as residences, apartment buildings and businesses to provide high-speed internet access.
According to the company, in the initial phase, the service has been extended to three places including Bhansipati, Tinkune-Baneshwor and Kapan-Bouddha area, said Ramesh Sapkata, General manager of the company.
He said that the company aims to increase the number of internet users to 12,000 within a month. He said that the company is working with a plan to expand the service outside the ring road in the Kathmandu Valley within this year.
Packages and Pricing
Home Users
25 Mbps
1 month – Rs. 3,438
3 months – Rs. 5,020
6 months – Rs. 7,845
1 year – Rs. 12,385
1 year (existing users) – Rs. 11,865
40 Mbps
1 month – Rs. 3,890
3 months – Rs. 6,376
6 months – Rs. 10,444
1 year – Rs. 17,450
1 year (existing users) – Rs. 16,950
Corporate Users
25 Mbps
1 month – Rs. 1,100
1 year – Rs. 11,300
40 Mbps
1 month – Rs. 1500
1 year – Rs. 16,385