Domestic Airfares rise on high cost of aviation fuel(Price List)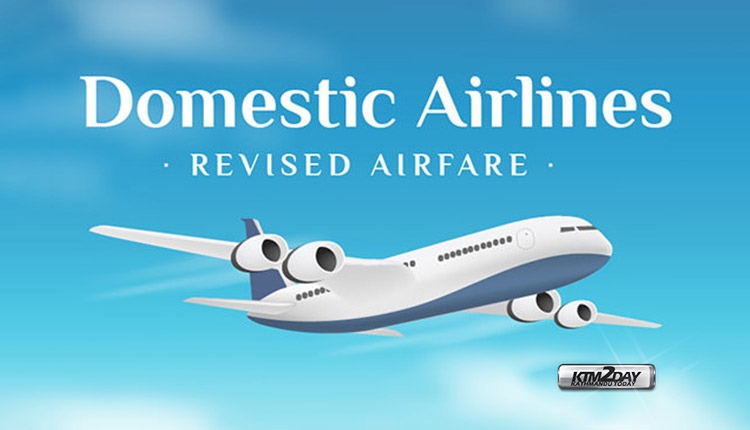 With the recent increase in the price of aviation fuel, domestic airlines have increased air fares.
The Airlines Operators Association of Nepal, an umbrella organization of private airlines, has increased domestic fares from a minimum of Rs 10 to a maximum of Rs 85 with effect from Tuesday.
The association has stated that the minimum fare has been increased from Rs 10 to Rs 85 after the increase in the price of aviation fuel in the domestic air service.
As a result, air passengers are now required to pay higher airfare charges.
Nepal Oil Corporation had decided to increase the price of aviation fuel along with petroleum products by Rs 2 per liter on April 19.
According to the new airfare rates fixed by Airlines Operators Association of Nepal the old and new airfare charges are compared in the table below :
New Domestic Airfare Charges in Nepal 2078(2021)
SECTOR
FUEL SURCHARGE (NRS.)
EXISTING @ Rs 74
NEW @ Rs 76
Increased by Rs
Kathmandu-Mountain
2540
2605
65
Kathmandu-Bhadrapur
2220
2280
60
Kathmandu-Biratnagar
1775
1825
50
Kathmandu-Janakpur
950
975
25
Kathmandu-Bharatpur
790
815
25
Kathmandu-Pokhara
1170
1205
35
Kathmandu-Bhairahawa
1520
1565
45
Kathmandu-Nepalgunj
2410
2475
65
Kathmandu-Dhangadhi
3270
3355
85
Kathmandu-Tumlingtar
1365
1400
35
Kathmandu-Simara
665
680
15
Biratnagar-Tumlingtar
790
815
25
Pokhara-Bharatpur
820
845
25
Pokhara-Bhairahawa
950
975
25
Pokhara-Nepalgunj
1755
1800
45
Pokhara-Mountain
2320
2385
65
Kathmandu-Surkhet
2555
2625
70
Biratnagar-Mountain Flight
2360
2425
65
Kathmandu-Rajbiraj
1510
1555
45
Simara–Pokhara
1290
1325
35
Biratnagar-Bhojpur
615
635
20
Biratnagar-Lamidanda
755
775
20
Biratnagar-Phaplu
980
1010
30
Biratnagar-Pokhara
2445
2510
65
Biratnagar-Rajbiraj
505
515
10
Biratnagar-Ramechhap
1265
1295
30
Biratnagar-Rumjatar
840
865
25
Biratnagar-Taplejung
815
835
20
Biratnagar-Thamkharka
670
690
20
Biratnagar-Simara
1010
1035
25
Dang-Chaurjhari
505
515
10
Dang-Rukum
530
545
15
Dhangadhi-Baitadi
615
635
20
Dhangadhi-Bajhang
815
835
20
Dhangadhi-Bajura
1010
1035
25
Dhangadhi-Darchula
755
775
20
Dhangadhi-Doti
530
545
15
Dhangadhi-Safebagar
615
635
20
Dhangadhi-Mahendranagar
445
460
15
Dolpo-RukumSalle
530
545
15
Doti-Safebagar
305
315
10
kathmand-Chaorjhari
2165
2220
55
Kathmandu-Phaplu
895
920
25
Kathmandu-Baglung
1545
1585
40
Kathmandu-Bhojpur
1095
1125
30
Kathmandu-Jomsom
1460
1500
40
Kathmandu-Jumla
2530
2595
65
Kathmandu-Lamidanda
840
865
25
Kathmandu-Lukla
1010
1035
25
Kathmandu-Manang
1405
1440
35
Kathmandu-Meghauly
815
835
20
Kathmandu-Ramechhap
615
635
20
Kathmandu-Rumjatar
755
775
20
Kathmandu-Surkhet
2360
2425
65
Kathmandu-Taplejung
1515
1555
40
Kathmandu-Rajbiraj
1290
1325
35
Kathmandu-Dang
2020
2075
55
Kathmandu-Khanidanda
980
1010
30
Kathmandu-Kangeldanda
980
1010
30
Kathmandu-Rukum
2165
2220
55
Kathmandu-Thamkharka
1265
1295
30
Lamindanda-Rajbiraj
645
660
15
Lukla-Rumjatar
840
865
25
Lukla-Phaplu
445
460
15
Mahendranagar-Darchula
560
575
15
Mahendranagar-Doti
645
660
15
Mahendranagar-Baitadi
670
690
20
Mahendranagar-Bajhang
980
1010
30
Mahendranagar-Safebagar
815
835
20
Nepalgunj-Baitadi
1265
1295
30
Nepalgunj-Bajhang
1180
1210
30
Nepalgunj-Bajura
1095
1125
30
Nepalgunj-Chaurjhari
615
635
20
Nepalgunj-Dang
530
545
15
Nepalgunj-Darchula
1375
1415
40
Nepalgunj-Dolpo
1065
1095
30
Nepalgunj-Doti
980
1010
30
Nepalgunj-Jumla
1095
1125
30
Nepalgunj-RukumSalle
730
750
20
Nepalgunj-Sanfebagar
955
980
25
Nepalgunj-Simikot
1460
1500
40
Nepalgunj-Surkhet
475
490
15
Nepalgunj-Talcha (Rara)
1180
1210
30
Pokhara-Bhairahawa
730
750
20
Pokhara-Bhartpur
590
605
15
Pokhara-Dolpo
895
920
25
Pokhara-Jumla
925
950
25
Pokhara-Manang
615
635
20
Pokhara-Surkhet
955
980
25
Pokhrara-Jomsom
590
605
15
Rajbiraj-Rumjatar
840
865
25
Surketh-Bajhang
870
895
25
Surkhet-Bajura
870
895
25
Surkhet-Jumla
785
805
20
Surkhet-Dolpo
980
1010
30
Surkhet-Rukum
670
690
20
Surkhet-Simikot
1120
1155
35
Surkhet-Talcha
870
895
25
Surkhet-Chaurjhari
530
545
15
Ramechhap-Lukla
560
575
15