Government sets out criteria for Standard and Deluxe Electric Cabs in Bagmati Province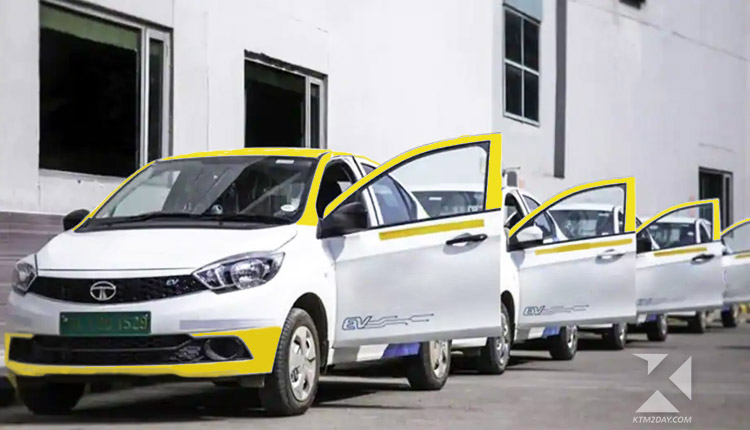 Following the Bagmati state government's establishment of the criteria for electric taxis, discussions have begun on the model that can be utilised in taxis among the vehicles available from various automobile companies in Nepali market.
Bagmati's government has announced that all new taxis registered in the Kathmandu Valley will be all-electric.
Taxis are defined in two category under the state government's new criteria. One is classified as a standard taxi, while the other is classified as a deluxe taxi. The fare for a regular taxi and a luxury cab will also differ, with deluxe being more expensive.
The electric taxi's are classified according to the battery, motor, and range. Additionally, boot space and body design are considered.
Standard Taxis must have a 200-liter boot, a 30-kilowatt motor, a 20-kilowatt-hour lithium-ion battery, a range of at least 210 kilometres, and a sedan body style.
Additionally, the specification specifies that the Deluxe taxi must feature a 250-liter boot, a 50-kilowatt motor, a 40-kilowatt-hour lithium-ion battery, a 250-kilometer range, and a sedan or van styled body. Deluxe taxis can be made available in 5- and 7-seat configurations.
Another critical issue addressed in the revised criterion is that of ground clearance. A standard taxi should have a ground clearance of 170 mm, whereas a premium taxi should have 175 mm.
Which models fit best on the criteria?
At the moment, there are very few models that match the government's specifications.
As per government's criteria, sedan styled electric vehicles currently available in Nepali market are in limited numbers. These include Mahindra's eVerito, Tata's Tigor, and BYD's M3. Tata may also introduce the Xpres-T model in addition to these three.
Tata Tigor is the most appropriate taxi model on the market. The Tata Tigor EV is equipped with a 55-kW motor, a 26-kWh battery, a 172-mm ground clearance, a 300-kilometer range, and a 316-liter trunk. It appears to fit all of the government's criteria with flying colors.
Tigor's XM model is currently priced at Rs 29.90 Lakh in Nepali market.
Mahindra's eVerito likewise also fits the majority of the government criteria, although falls a little short on the range criteria. The eVerito only has a claimed range of 120 km which falls much shorter than government's criteria of 210 km range for electric taxis.
The BYD M3 is an excellent choice for a premium taxi. The company boasts a 44.9 kWh battery, a 275-kilometer range, a 180-millimeter ground clearance, and a 100-kilowatt motor. It's estimated market price in Nepal is Rs 40.50 Lakh.
Tata also appears to be capable of substituting the Xpres-T model with the present Tigor EV. Along with these names, several Chinese manufacturers are likely to release new models for electric taxis.