Energizer Mobile Phones Price in Nepal 2023 (Aug-Sept)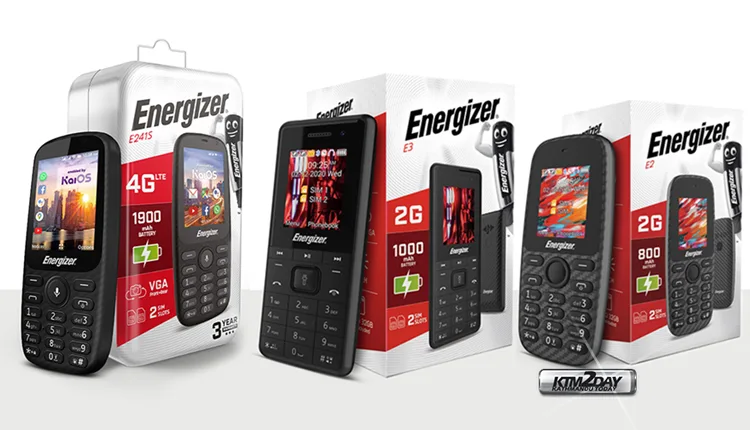 Energizer Mobile Phones Price in Nepal
Mobile phones, including smartphones, are offered by France-based Avenir Telecom under the Energizer brand license. The company's product line includes smartphones in four different price ranges: Hardcase (resistant smartphones), Power Max (long-lasting batteries), Energy Plus (protection accessories included in the price), and Energy (feature mobile phones).
The company has appointed Arel Nepal as the official dealer for selling Energizer brand of phones in Nepali market. For now, the company has launched only few models to check out the market but will be launching more models in 2022.
Energizer Nepal has launched three basic handsets from its Energy category in Nepali market . The models are E2, E3 and E241S. The E241S stands out from the other two as it offers several premium features and runs on KaiOS focussed on developing countries like Nepal.
∎ Energizer E241S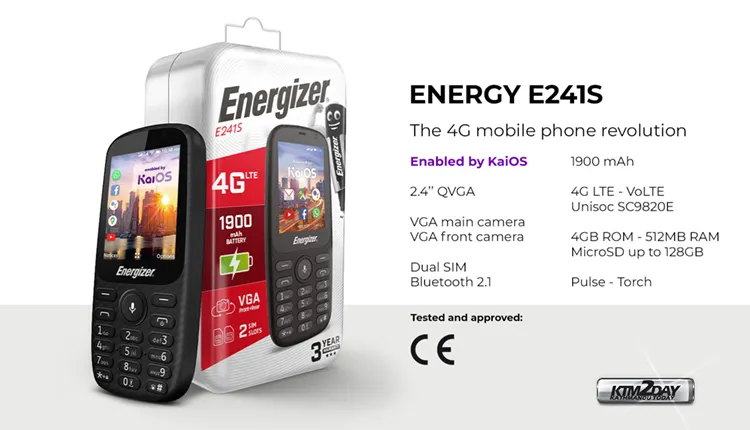 Energizer E241S is a unique combination of a feature phone with compact design, long battery life and the features of a smartphone with application store, wifi connection, 4G, social network access.
With dimensions of length, width and height of 12.53 cm, 5.4 cm and 1.45 cm, respectively, the Energizer E241S phone is extremely compact in the palm of your hand, making it easy for you to perform everyday tasks such as making calls and texting.
On the front, Energizer's popular phone is equipped with a T9 keyboard with sturdy keys, clear numbers, and backlight, suitable for the elderly or young people who want to find the familiar feeling of texting again.
In addition, the handset also has a 2.4-inch wide TFT color screen that displays clear, easy-to-observe content, digits, and icons.
The back of the phone is made of plastic with a carbon fiber texture that helps you hold it firmly while leaving no fingerprints. In addition, the device will also have an external speaker, a camera and a convenient flashlight.
☰ App Store
Energizer E241S equipped with KaiOS operating system brings many features of a smartphone such as surfing the web, reading news, chatting, social networking, checking email,etc.
In particular, on the KaiOS operating system, there is also an application store integrated with the basic applications you need such as facebook, google and some entertainment mini games.
☰ Super fast internet access with wifi and 4G
Energizer E241S keyboard phone also supports wifi and 4G connectivity so you can connect to high-speed internet anywhere.
With a super fast network connection, you can surf the web faster or even watch YouTube videos smoothly in basic resolution.
Taking advantage of 4G access, you can also turn the Energizer E241S into a compact portable wifi hotspot to share the network connection with other devices extremely conveniently.
☰ Beefed up Battery Power
As a company specializing in batteries and providing power for electronic devices, it is not surprising that Energizer E241S is equipped with a huge battery of up to 1900 mAh.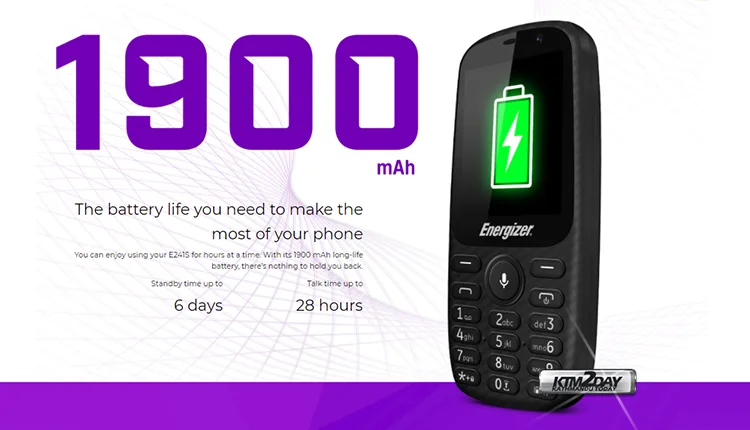 With this battery, you can comfortably use the phone for as long as 2 days. If you only listen to basic calls, you can use it up to 3 days or even longer without worrying about the problem of quickly running out of battery or having to charge often.
☰ Rear camera and front camera
Another interesting thing is that besides the QVGA rear camera, the Energizer E241 also supports the 0.3 MP front camera to take a few selfies, but the quality is not high.
With 2 sim slots, Energizer E241S supports calling with 2 different phone numbers to meet your communication needs.
The handset also has a memory card slot to expand upto 32 GB, allowing you to comfortably listen to your favorite songs or learn English anywhere.
With a compact design but containing many interesting and useful features, surely Energizer E241S deserves to be a popular phone that meets the communication needs but still supports well in work and entertainment.
☰ Energizer E241S Price in Nepal
The handset is priced at Rs 4,900 in Nepali market and comes with 512 RAM and 4GB internal storage.
---
∎ Energizer E3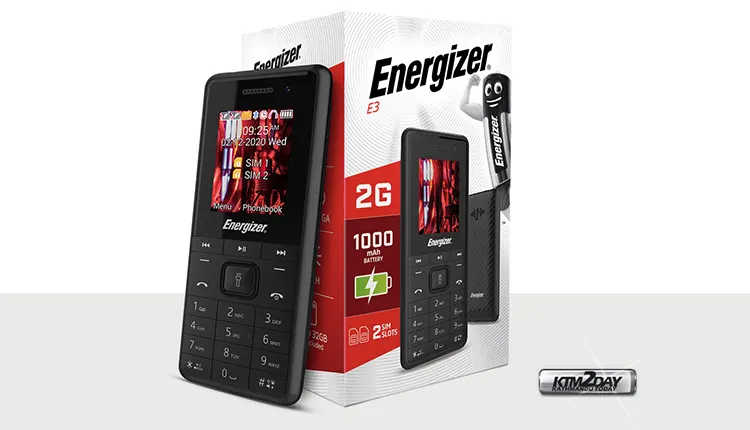 ☰ Design
The design of the E3 is inspired by the modernity of the carbon pattern. It is characterized by a chevron pattern, which alternates light and darker parts to create shadows and visual relief.
The unique touch of this device is completed by the speaker on the back of the phone, you can listen to your music library or the FM radio you want.
The curve of the E3 allows ultimate comfort for the user, its convexity gives the possibility of sliding it into his pocket or bag easily. Its well-defined keyboard underlines its simplicity and facilitates user adaptation.
The E3 is available in 7 colors to show off your style.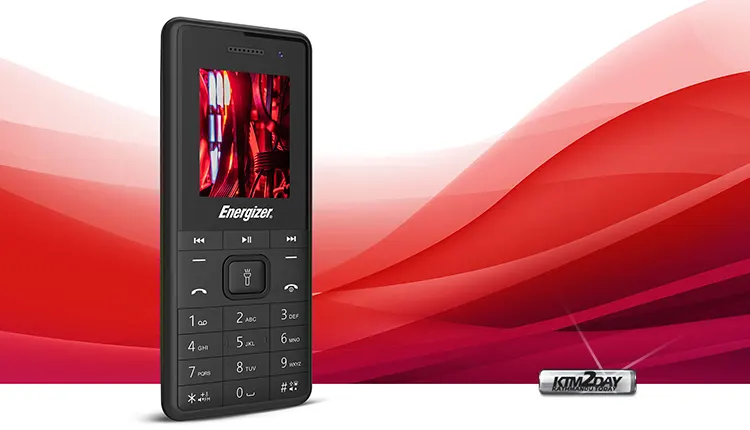 ☰ Specs
The Energizer E3 is a basic feature phone that comes with dual camera system on the front and rear. It also supports dual sim card or a single sim card and a SD card to expand the internal storage by up to 32 GB.
The phone has a 1.77 inch TFT display with a resolution of 128X160 pixels and 262K colors .
The E3 is powered by a Unisoc SC6531E SoC which has a single core of 312 MHz. The device has 32 MB of RAM and 32 MB ROM .
The device features a bright torch light and a speaker on the rear for listening to music stored on the internal or external storage card.
It also supports Bluetooth 2.1 connectivity and features a micro-USB port.
The E3 only supports 2G network and has a high-performance 1000 mAh battery that gives you fantastic 100 hours of standy time and upto 4.5 hours of talk time without recharging.
The phone runs on ThreadX operating system and merely weighs 70 grams .
☰ Energizer E3 Price in Nepal
The handset is priced at Rs 1,800 in Nepali market and comes with 32 MB RAM and 4GB internal storage.
---
∎ Energizer E2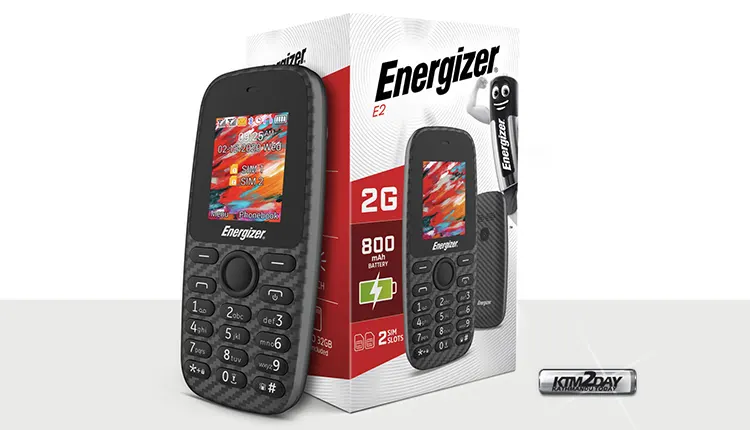 The core specs of the E2 is no different than that of the E3 mentioned above. However, at a few bucks cheap it is deprived off a front camera and a larger battery, hence instead it comes with a slightly smaller 800 mAh battery.
The E2 is easy to use and pleasing to the eye, with a carbon patterned shell for a high-quality design. It is available in 7 different colors.
The phone is powered by a Unisoc SC6531E single core 312 Mhz SoC coupled with 32 MB of RAM and ROM. The storage can be further expanded to 32 GB using a micro SD card.
The E2 comes with a 0.08MP QVGA camera on the rear for video playback and recording.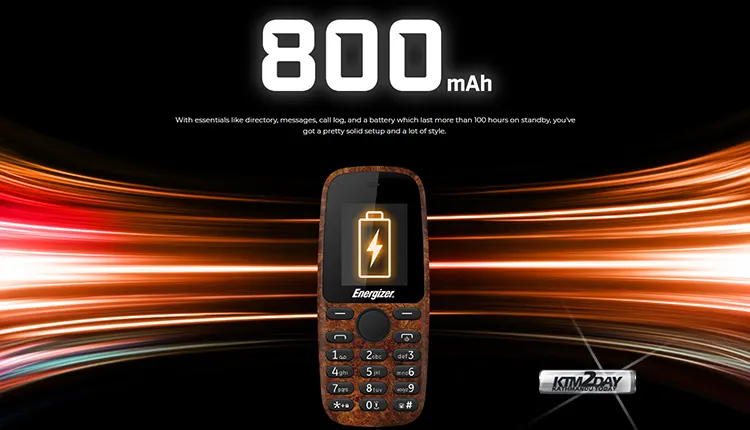 The device features a speaker on the rear and comes with FM Radio for entertainment. It supports dual SIM or SD card. Both mini and micro SIM card support is available.
The E2 only supports 2G network and has a 800 mAh battery which last more than 100 hours on standby.
The phone runs on ThreadX operating system and merely weighs 74.3 grams .
☰ Energizer E2 Price in Nepal
The handset is priced at Rs. 1,600 in Nepali market and comes with 32 MB RAM and internal storage.