First batch of 'Remedisivir' for corona patients arrives in Nepal(With Price)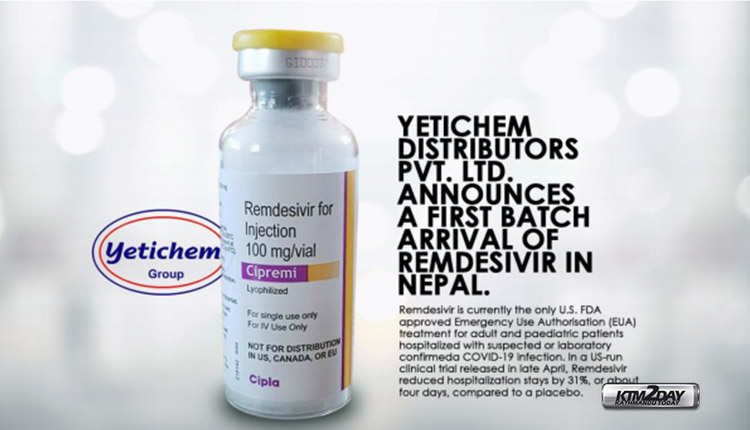 The first batch of the drug called Remedicivir has arrived in Nepal. Yetichem Distributors Pvt. Ltd. has announced that the emergency drug used for Covid-19 infection has been brought to Nepal.
Under the supervision of Yetichem, Cipla Limited has played the role to bring the drug of the brand called 'Cipremi' to the world market.
The Ministry of Health and Population, Department of Drug Management (DDA) has already given approval to the company to produce Remedisivir medicine at full speed.
According to the company, 480 bottles of the first batch has been produced. The price per bottle(per vial) is 6,400 nepali rupees.
The company claims that the drug was made available cheaply with the aim of making it accessible to all infected people.
Chairman of the company Prabhu R Vaidya said, "We have got permission to make 2,000 vials."
According to him, the drug will be manufactured in three batches. The second batch of 480 vials will be produced by September 10 and the remaining 1040 vials batch will be made available by September 25, the company said.
The Government of Nepal has stated that it has just started using this medicine for the critically ill patients suffering from Covid.
To administer the drug, one has to follow the criteria and guidelines of Nepal Health Research Council.
In addition, it should be under the supervision of a doctor appointed by the council. The drug was recently approved by the Food and Drug Administration (FDA), in the US, as an "Emergency Use Authorization" for children and adolescents who have been confirmed with infection from coronavirus.
The drug 'Remedisivir' is often used in patients with severe covid symptoms. It is also used in patients kept in ICU who are suffering from low amount of blood oxygen level, 'said Dr. Ashesh Dhungana.